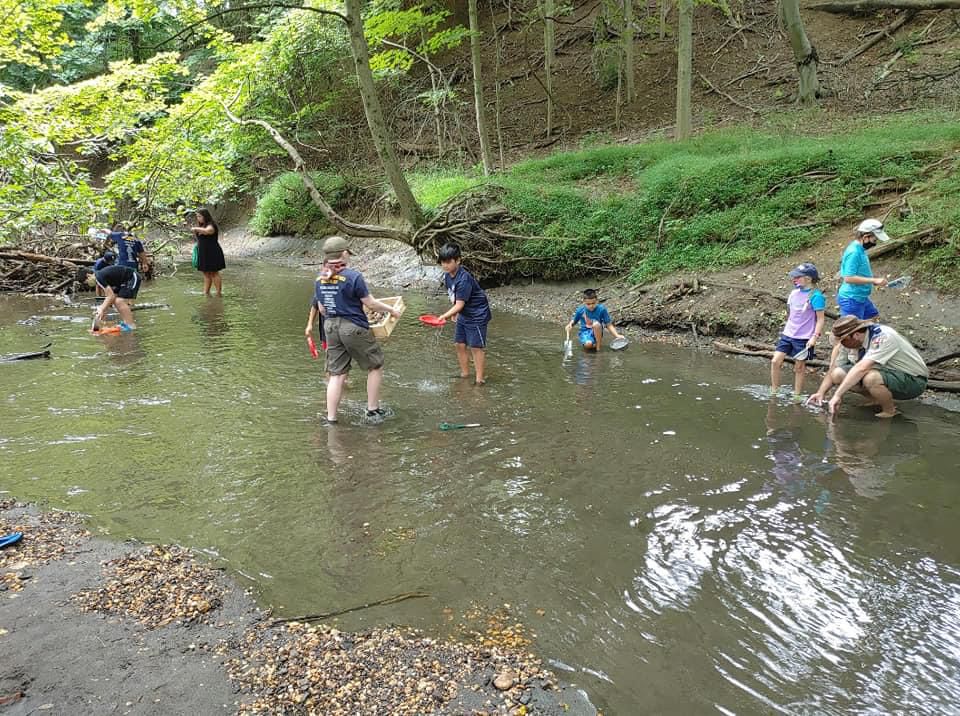 Digging Out a Piece of History
Submitted by Christian Bellmann
About a dozen Cub Scouts and siblings from Pack 182 in Warren participated in a Fossil Hunt organized by Scout leaders Michele Araujo and Cindy Noh on August 21, 2021. Scouts met at the Big Brook Fossil Area in Colts Neck, NJ to sift through gravel in the hopes of discovering a piece of history.
Prior to the hunt, leaders gave a brief overview of the history of our area and instructed the scouts and siblings on safe gathering techniques. Then, dressed in waders, water shoes and rain boots, the scouts set forth on their adventure. Walking slowly along the creek beds and carefully scanning the gravel areas they picked their sifting locations. Using a variety of sifting pans, the scouts were successful in finding ray and shark teeth as well as squid pen fossils and many, many curious objects. With the help of their leaders, scouts worked to identify their treasures before deciding which ones to take and which to leave for the next treasure hunters.
This event closed out a summer full of outdoor opportunities scouts leaders provided for scouts ages Kindergarten – 5th grade to continue to foster an appreciation for the outdoors while engaging in learning-rich adventures. Boys can enroll in Pack 182 Warren Cub Scouts at any time during the year, with many joining simultaneously to the start of a new school year. Scouts from surrounding towns are welcome. To learn more about Scouting please contact membership@warrenpack182.org.