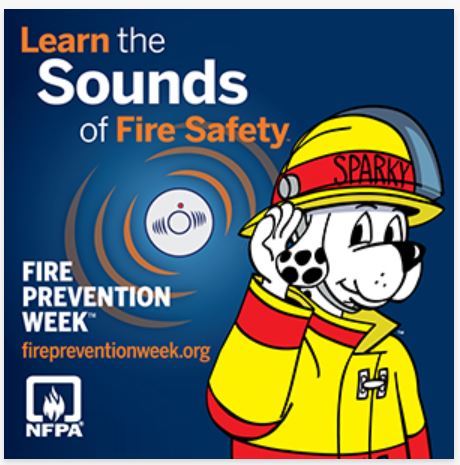 Fire Prevention Week 2021 
From Sunday, October 3 to Saturday, October 9, 2021, the Summit Fire Department will join firefighters across the nation in celebrating Fire Prevention Week. The National Fire Prevention Association is focusing on alarm education with its topic this year, "Learn the Sounds of Fire Safety." This message is particularly relevant as fire and carbon monoxide alarms have one of the greatest impacts on keeping homes safe, and people are spending more time at home during the COVID 19 pandemic.
The Summit Fire Department has provided the following safety tips to educate residents on fire and carbon monoxide alarms:
∙ A continued set of three loud beeps means smoke or fire. Get out and call 9-1-1 immediately.
∙ A single chirp every 30 or 60 seconds means that the battery is low and needs to be changed.
∙ Chirping that continues after replacing the battery means that the alarm is at the end of its life and must be replaced.
∙ A continued set of four loud beeps means that carbon monoxide is present in your home. Go outside and call 9-1-1 immediately.
∙ Carbon monoxide alarms also have end-of-life sounds that vary by manufacturer, indicating it is time to purchase a new alarm.
∙ All smoke and carbon monoxide alarms must be replaced every 10 years.
For more information on the Summit Fire Department and its fire safety programs, visit the city website at cityofsummit.org/fire.