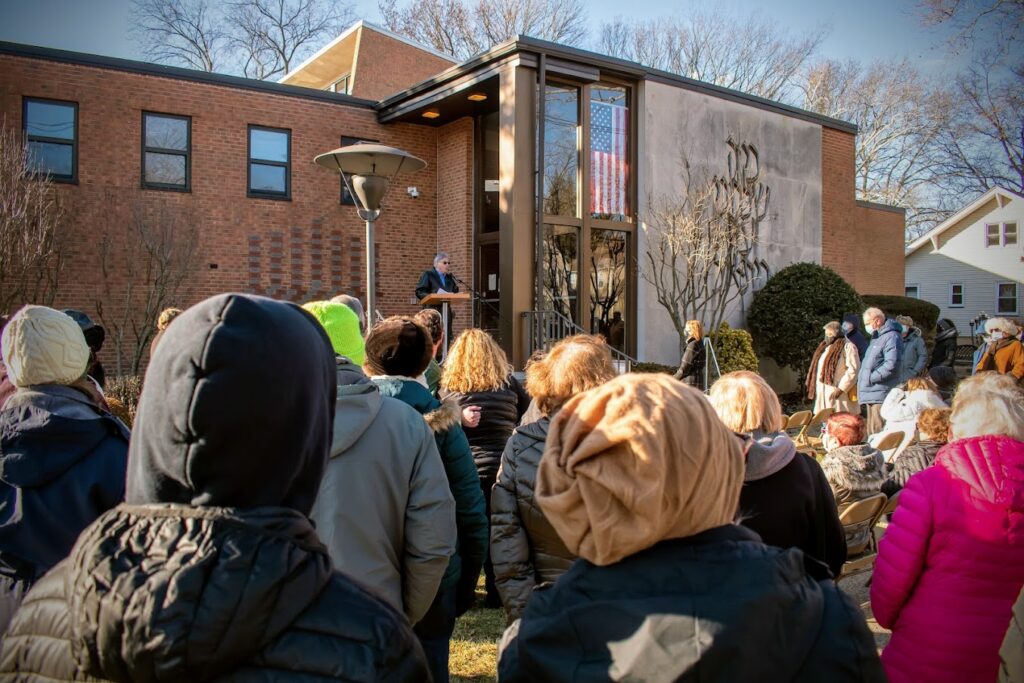 Temple Beth-El Mekor Chayim Vigil 
Temple Beth-El Mekor Chayim 
A vigil held on February 6 at Temple Beth-El Mekor Chayim reflected on the acts of hate against a synagogue in Colleyville, Texas and affirmed Cranford's inclusive culture.
"Never forget. Never again. But it happens again and again and again and again. It is time for all of us to stand up and scream, 'enough is enough!' All of us–Jews, Christians, Muslims, atheists. Enough is enough." These powerful words were spoken by Bruce Solomon, co-president of Temple Beth-El Mekor Chayim (TBEMC).
A crowd of approximately 125 people gathered and heard remarks from members of the Cranford Clergy Council, Cranford Mayor Kathleen Miller Prunty, and a statement written by Cranford's Superintendent of Schools. The vigil was attended by the Cranford Chief of Police and other police officers, as well as members of the Cranford Fire Department and Township Committee.
"I realized that Cranford is very much like Colleyville," said Rabbi Paul Kerbel, TBEMC's spiritual leader and vigil organizer. "I have a close relationship with my fellow clergy who are here today. We care about Cranford and we care about our community. We have different beliefs and likely different political opinions. But we believe in pluralism, equity, and diversity."
In Texas on January 15, Rabbi Charlie Cytron-Walker welcomed what appeared to be a homeless man into the synagogue, preparing a cup of tea for him. He leaned on the hospitality taught through biblical tradition: welcome the stranger. But as the Shabbat morning services began, the man cocked his gun and held the rabbi and four congregants hostage for 11 hours.
While the hostages in Colleyville made it out alive, recent history shows this is not always the case. Jewish institutions in New Jersey, New York, Pennsylvania, California, and many other places have experienced terrorism due to their religion, sometimes resulting in death.
"To our Jewish neighbors, community members, family members: we see you. We hear you," said Reverend Cameron Overbey of the Cranford United Methodist Church, and chairman of the Cranford Clergy Council. "We recommit to making our community one in which … you do not have to live in fear simply because of your religion or your culture."
The gathering included neighbors, friends and TBEMC congregants in true community spirit. "We know that silence and a blind eye means that hatred and the haters win," said Mayor Prunty.