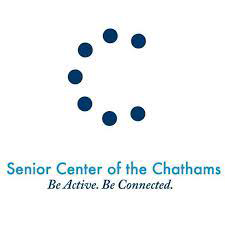 Senior Center of the Chathams March 2022
Caregiver Support Group 
Wednesday, March 9 at 10:30 a.m. 
Moderated on Zoom and in person at the Center by Phyllis Flemming, former Executive Director of Victorian Garden Adult Day Center, and experienced dementia support group leader. New participants always welcome. Contact Center for Zoom link.
Golf Lessons 
Wednesdays, March 9 through 30 from 12:30 p.m. – 2:00 p.m. 
Learn how to play golf before the golfing season begins. Instructor: Lou Ruina, Golf Pro. Fee: $75 for all 4 classes; $25 per individual class. Sign up is required. Bring your own clubs; golf balls provided. Lessons take place in the Municipal Gym.
Forum: Your Health & Personal Care Planning 
Tuesday, March 15 at 11:00 a.m. 
Attendees will learn about Advanced Medical Directives, Polst Forms, and how to communicate and start the conversation with family and loved ones about your health and personal care plans. Featured speakers: Bob Murray, The Murray Law Firm and Kathy Bassiacos, RN, BSN, Geriatric Care Manager, Unicity Senior Advisors. Lunch follows presentation. Sign up is required. This program is made possible by a grant from The New Jersey State Bar Foundation.
Folded Book Art 
Wednesday, March 16 at 10:30 a.m. 
Try something new and fun. By simply folding and cutting pages of an old book, you can create a unique work of art. Class led by Margie Ticknor, Librarian, Kemmerer Library, Harding Township. All supplies provided. Fee: $7 per person. Must sign up by March 11.
Play Reading Circle 
Tuesday, March 22 at 1:00 p.m. 
Have you ever been in a play or wished you could act in one? Now's your chance to show off your inner actor at our second Play Reading Circle. Parts will be assigned, and scripts handed out on the day of the program. Facilitated by Judy French. Must sign up. Sponsored by Ascend Health.
NJ Intergenerational Orchestra Outreach Ensemble Performance 
Tuesday, March 29 at 1:00 p.m. 
The NJIO Outreach Ensemble will perform light classical fare and arrangements of pop music, playing everything from Handel to the Beatles. This is a free event. Sign up is required. Sponsored by HomeWell Care Services.
Beginner Knitting Class 
Mondays at 1:00 p.m.  
Learn how to knit from Center staffer Carol Eisenhardt. All materials provided. Free class. Fee required as class progresses. Sign up is required.
Gentle Exercise Classes 
Mondays, Tuesdays, & Thursdays at 12:20 p.m. 
The Gentle Exercise classes sequence is Balance & Flex on Mondays and Thursdays, Chair Yoga on Tuesdays. Instructor: Donna Sue Dowton. Contact Center for fee information and to sign up.
Intermediate Exercise Classes 
Tuesdays, Wednesdays, & Fridays at 9:00 a.m. 
The Intermediate Exercise Classes sequence is Balance & Flex on Tuesday, Chair Yoga on Wednesday, and Low Impact Cardio on Friday. Instructor: Donna Sue Dowton. Contact Center for fee information and to sign up.
Pickleball 
Tuesdays & Thursdays at 10:00 a.m.
Fee is $20 through March 2022. Game is played in the Municipal Township Gym. Sign up is required.  
Writing Workshop 
Tuesdays at 9:45 a.m. 
Grab a pen and paper and join us as the group explores the beauty of writing. This class is for new and returning students and will focus on all genres of writing, including personal memoirs, creative fiction, and poetry. Topics to be covered include character and narrative development, dialogue, plot, and much more. Each week, the group will read a short story or short memoir piece, share written homework assignments, have a lesson about writing techniques, and tackle a brief in-class prompt. No experience needed—just a willingness to learn, laugh, and write! Six-class session meets on Zoom. Instructor: Jenny Tananbaum. Fee is $30 for the session. Must register to participate.
DVD Lecture Series 
Tuesdays at 10:30 a.m.  
Call Center for title of current series being screened. Three 30-minute lectures are shown at each session.
Table Tennis 
Five Days a Week at 12:30 p.m. 
Mondays, Wednesdays, & Fridays are for experienced players; Tuesdays & Thursdays are for those new to the game or who'd like a lesson. If new or interested in instruction, please call the Center a few days ahead.
Mah Jongg  
Wednesdays from 10:00 a.m. – 12 p.m. 
Mah Jongg is a stimulating game of strategy that helps people enhance cognitive ability and improve planning, memory, and calculation skills—all while having a lot of fun. If you're an existing player or a beginner with knowledge of the game who's looking for a few tips, join this friendly group in a no-pressure environment. All game materials provided. Everyone is welcome!
Open Bridge Practice 
Mondays, Tuesdays, & Wednesdays from 10:00 a.m. – 12:00 p.m. 
These sessions are open to those who want to practice playing bridge. Bring some friends and we'll provide the cards. Call ahead to confirm play is on.
The Women's Circle 
Tuesdays at 1:30 p.m. 
A social discussion group where women get to know one another by talking about issues of the day and topics that interest them.
Men's Discussion Group 
Fridays at 10:30 a.m. 
A friendly and relaxed gathering of men who engage in lively discussion about current events, have some laughs, and exchange useful information over coffee.
Nifty Knitters 
Wednesdays at 1:00 p.m. 
This active, social group gets together to create caps, blankets, and more for donation to local hospitals and veterans' organizations. They welcome all knitters interested in contributing to their cause.
Free Paint 
Thursdays from 10:00 a.m. – 12:00 p.m.  
The art room is open for artists to work on their own creations using their own supplies.
Movies 
Thursdays at 12:30 p.m. 
A movie is shown every Thursday. Call Center for titles. Sponsored by Bradley Funeral Homes. A foreign film is shown once a month on a Friday. Call Center for date and details.
The Senior Center of the Chathams is located at 58 Meyersville Road (lower level), Chatham, NJ. Open Monday through Friday, 9:00 a.m. – 3:00 p.m. Phone: 973-635-4565. ChathamSeniorCenter.org. Non-Chatham Residents are also welcome.