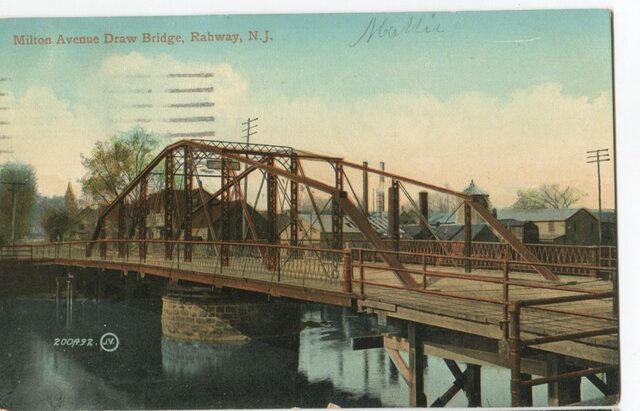 Rahway's Bridges
Submitted by Al Shipley, City Historian and Rahway Library Research Consultant
A visitor to Rahway in 1900 made the observation that he had never seen a town the size of this one that had so many bridges. Considering the comment, many might be surprised to learn that in a city of only four square miles there are at least 33 bridges that span the river.
Prior to the time when this area was first being settled by Europeans, around 1680, the landscape was covered by fields and woodlands. The river followed a meandering course and split into three branches. Due to the way the branches cut through the terrain, four villages, Leesville, Bridgetown, Upper Rahway, and Milton would develop.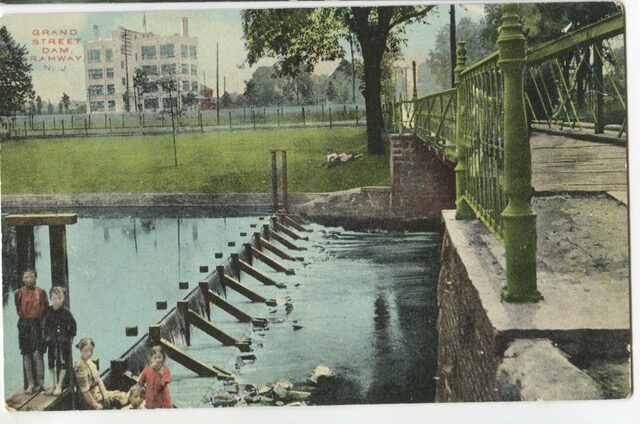 It is believed the first bridge, built on what is today East Hazelwood Avenue, was constructed in 1686 to connect Woodbridge to Elizabethtown. It is likely bridges on the King George Highway (St. Georges Avenue) were also built at a very early date. As more roads were eventually laid out, more bridges made of wood and stone were built. An early map indicates that at least 11 bridges had been constructed by 1856 and by 1900 one could count 22 bridges, the newer ones made of concrete and steel.
Most of the bridges that stand today have been reconstructed and/or redesigned several times over the years. Sixteen of the bridges were destroyed or badly damaged during the great flood of September, 1882, the worst in Rahway's history. After destroying the Milton Avenue Bridge, raging waters, travelling at 15-25 miles per hour and carrying lumber, canal boats, and heavy debris, slammed into the Monroe Street Bridge sweeping one person to his death. Each bridge from Monroe all the way to St. Georges, on both the main branch and the Robinson's Branch, was totally lost or severely damaged. The western half of the St. Georges Avenue Bridge near River Road collapsed. The St. Georges Avenue Bridge that spans the Robinson's Branch, however, was spared any damage. Although the roadbed of this bridge has been reconstructed over the years, its sturdy four-arch concrete foundation and cut-stone guard rails date back to 1873.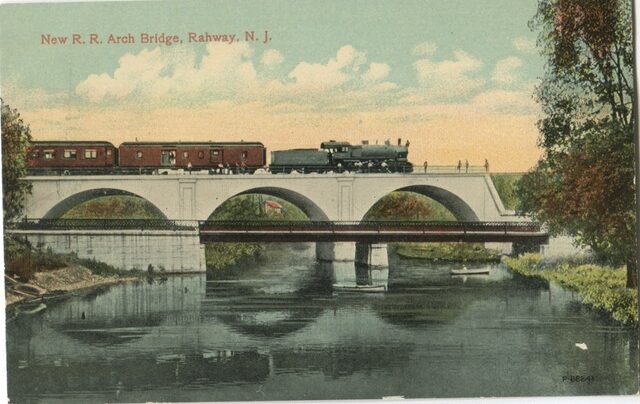 During the 1920s, with the speculation that housing would be needed after World War I, streets were laid out in the undeveloped areas in the western parts of the city. Although housing would not be built until the late 1940s, bridges were built on Orchard, Plainfield, Albermarle, Bramhall, Milton Boulevard, and two on Madison Avenue in preparation for development.
Next time you go for a walk or a drive, take notice of the bridges you cross. The number and types might surprise you as they did the visitor to Rahway over 100 years ago.