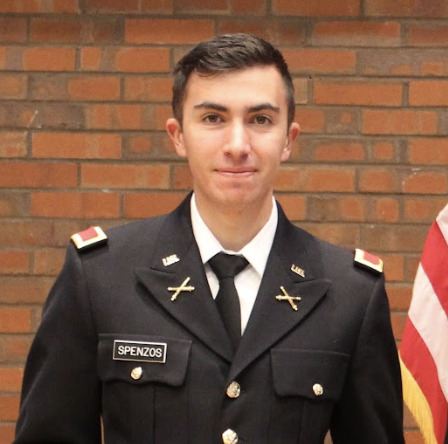 Second Lieutenant Michael G. Spenzos
The Providence College (PC) Army ROTC commissioned four cadets as second lieutenants in the United States Army on Friday, May 13 at the College. One of the cadets, Michael G. Spenzos, was from Florham Park, NJ. The commissioning took place at the College's War Memorial Grotto with PC President Rev. Kenneth R. Sicard, O.P., giving welcoming remarks. Other attendees included Professor of Military Science Lieutenant Colonel Tyler L. Jones. The guest speaker was Major General Christopher P. Callahan, adjutant general of the Rhode Island Army National Guard.
As a second lieutenant, these new officers will be responsible for leading platoons and companies in the full range of Army operations. Active-duty lieutenants serve full time as Army leaders, while National Guard lieutenants serve part time with their respective state national guards.
Second Lieutenant Spenzos earned a bachelor of science in marketing. He will attend Basic Officer Leadership Course (BOLC) training in Fort Sill, Oklahoma followed by service in the active duty Army.
Founded in 1917, Providence College is the only college or university in the United States administered by the Dominican Friars and has an undergraduate enrollment of approximately 4,100 students.  Providence College has ranked first among regional colleges and universities in the North for the last three years according to U.S. News & World Report's "America's Best Colleges."
Courtesy photo