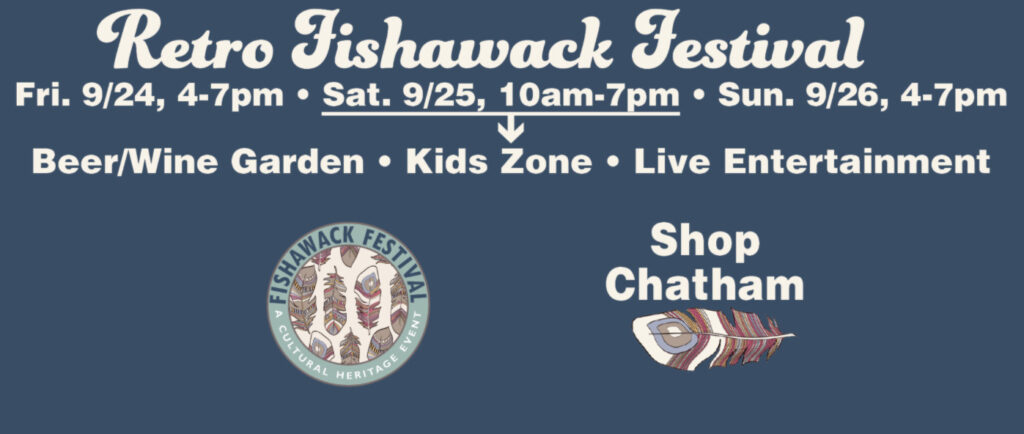 Mark Your Fall Calendar!
Join the MyChathamNJ Advisory Committee of the Mayor & Borough Council, during the weekend (a first for the event) of September 24th, 25th, and 26th for the Retro Fishawack Festival; Join in the Fun in 2021! The Festival beings on Friday, September 24th 4-7pm, continues Saturday, September 25thfrom 10am-7pm, and ends Sunday, September 26th from 4-7pm.
Choose your favorite Friday night take out dinner as the event kicks off from 4-7pm with LIVE local entertainment at Reasoner Gazebo Park to enjoy an evening picnic. During the first hour Chatham's performing troupe Dance Innovation, under the artistic direction of Susan McCutcheon, will share their passion for dance with the community. Beginner to advanced level classes have been provided for Chatham, and surrounding area residents for over 30 years!
Stay for Friday's closure by local band Blue Soul featuring Classic Blues, R&B, Funk and Soul. Musical director and bass player Bailey Gee, adds vocal assistance to lead vocalist Herb Woodson, a Madison natural. We have Mike Hogan on guitar, and Ted Brancato playing the keys round out the big sounds of accomplished drummer Joe DeVico.
At Saturday's sun rise, local shop owners will be busy prepping to welcome consumers both indoors and out. Consider dining out for breakfast, lunch, and dinner in the South Passaic Dining Pavilion provided by J.B. Orthodontics (a practice for both adults and children), or indoors at a Chatham eatery.
Early risers seeking to raise their step count should register with the Jaycees Fishawack Run:
https://runsignup.com/Race/NJ/Chatham/JayceesFishawackRun .
Saturday's Live Music continues all day long at the Gazebo! Discover the Chatham Community Band, Dance Innovations, School of Rock with youth performances under the direction of Art Lima, the bandsSave Mary and Unplugged, a favorite from Chatham's Summer Concert Series.
Sponsoring this year's live entertainment is resident and local realtor Mary Weichert, of Weichert Realtors, who has a special fondness for the Chatham residents that make up the Unplugged band. Mike McLaughlin, Joe Piccari, Chris Tomaino, and Sal Arnuk, along with Bobby "Tambo" Maloney of Staten Island, don't really think of themselves as a "band" but instead a collection of friends who get together on occasion. The Gazebo LIVE entertainment will continue throughout the day until 7pm.
A Community on Display – Like It Used To Be
Chatham's non-profits, community groups, and businesses will line Main Street, Firehouse and Post Office Plazas, complete with a Kid Zone filled with activities through 4pm, sponsored this year by Oak Knoll School of the Holy Child.
The renowned, fun filled Outdoor Beer & Wine Garden opens for public enjoyment from 1-7pm at the Reasoner Gazebo Park lawn, sponsored once again by Turpin Realtors. There, the Senior Citizens of the Chatham's Happy Hour from 1pm to 3pm, directly behind the Investors Bank sponsored Senior Lounge, a space for gathering and relaxing located directly across from the handicap parking along Fire House Plaza.
Fishawack Like It Used To Be, when local business owners and the Chatham Area Chamber of Commerce initiated this cultural heritage event, which was named for the annual nomadic crossing of the Passaic River by the Lenni Lenape Tribe in Chatham.
Connecting Commerce, Community, Culture and Marketplace
Over the last 18 months, many challenges were imposed by the pandemic. We have maintained Chatham's traditional Main Street marketplace and carried on our welcoming community atmosphere: this is how the September Retro Fishawack Festival 2021 is being developed. While the event's footprint has changed in 2021, innovating local commerce while connecting the community remains the goal.
More of What to Expect at the Weekend Celebration
Neighbors Helping Neighbors, the Local Food Pantry sponsored by the Chatham United Methodist Church, has proposed an opportunity onsite during the Festival to support both merchants and those in need during Fishawack. Called "Give 10, Get 10" the pantry is asking local merchants to offer a 10% discount on purchases made during Fishawack to patrons that donate $10 or more in cash to the pantry. See details at their booth on South Passaic.
Meet Legends at Legends Gallery at Frames on Main Check out the website for the fames Names, times, and day of appearance: legendsgallery.net.
Meet Your Next Furry Friend at Purple Aardvark's It's a Ruff Life Rescue.
The is so much more from local shop owners, dining outdoors, and established retail businesses likeJabberwocky toys celebrating 30 years in Chatham and Sunnywoods Florist now in their 40thyear. Take time to stop by and to congratulate them!
You won't want to miss the annual Sustainability Fair.
Welcome to the 6th annual Sustainability Fair sponsored by the Chatham Environmental Commission and the Green Team. We are delighted to be a part of Retro Fishawack this year, Saturday, September 25th from 10 to 3. Our Climate is changing. We need everyone involved in our work to protect our environment and support a sustainable Chatham: there is opportunities for everyone, all ages, all abilities, all interests. Our CB Green Team meets monthly on the third Tuesday, but our work is ongoing. We welcome your questions, energy, talents, and suggestions! Contact us at chathamboroughgreen@gmail.com, follow us on Facebook and on the Environmental Commission page of the Chatham Borough website. We encourage all our creative residents and businesses to complete our Creative Assets Inventory at https://forms.gle/aUM1dBdwJqN1vEZ59.
The Environmental Commission and Borough Green Team invite you to learn about sustainable driving of the future.
NJ's Governor has set a goal of registering 330,000 EVs by 2025, which will reduce emissions from the transportation sector and help reach NJ's Energy Master Plan and the Global Warming Response Act. Consequently, there are financial incentives available to drive electric.
Did you know Porsche, Honda, Volvo, VW, Audi, BMW, Hyundai, Mustang, McLaren, Karma, Chevrolet, Polestar, Nissan, Jeep and Tesla offer electric vehicles?
Come and see multiple electric cars and bicycles from local dealers at the EV Expo.
Come and talk to EV owners about their cars as part of National Drive Electric Week.
Driving Electric is more affordable and convenient than you might think.
Find out more from 10AM-3PM at Firehouse Plaza.