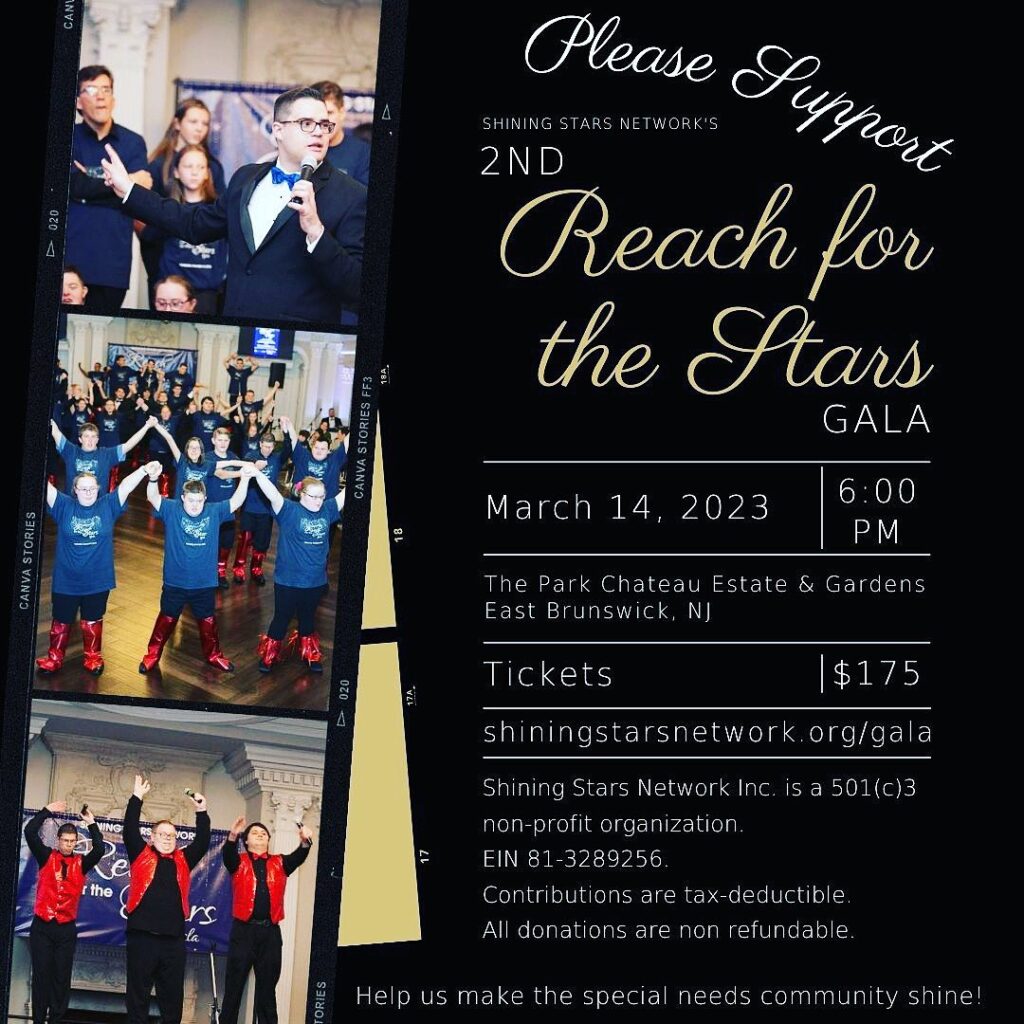 Shining Stars Network Gala
Shining Stars Network, a non profit organization that creates opportunities in the performing arts for the special needs community, kicks off their 11th year with their 2nd "Reach for the Stars" Gala, set for Tuesday, March 14th at the elegant Park Chateau Estate & Gardens in East Brunswick.
The evening, which will begin at 6:00 p.m., will feature a five-star cocktail hour, open bar, dinner and dessert. Highlights of the evening include performances by the Shining Stars cast and buddies, live and silent auctions and a 50/50. Special guest will be celebrity chef and restaurateur David Burke, of Iron Chef America, who will auction off dinner experiences at his famous New Jersey eateries, including a personalized dinner for four.
"Our first gala in 2019 was a great success and we can't wait for what will be another magical evening," noted Shining Stars Network President and co-founder Mike Curci. "Park Chateau is one of the finest venues in the country, and we're excited for our Shining Stars families, friends and supporters to enjoy this special night together."
Individual tickets are $175 and a table of 10 can be purchased for $1500 (a savings of $250). Email your request to ShiningStarsNetwork@gmail.com. Please mention "gala tickets" in the subject line. Venmo, checks and credit cards are gladly accepted. Sponsorship opportunities and journal ads are also available.
The Gala will start a big year for the Shining Stars, who will take to the stage for their "Evening of Shining Stars Talent Show" on Saturday May 13th at the Union County Performing Arts Center in Rahway.
On Saturday August 5th, history will be made when the Shining Stars make their Paper Mill Playhouse main stage debut, becoming the first special needs show to perform a full production on that iconic venue. Tickets for "The Greatest Show" — which will feature songs from Broadway and movies — will go on sale in late spring.
"We're honored and thrilled to be co-producing a show with the esteemed Paper Mill team," added Curci. "Our brookside cabaret at Paper Mill last September was an overwhelming success and to see our stars on the main stage this August will be a dream come true."
The Camp Shine Summer Workshop will take place in late August, and the Stars will cap off the year with their annual "Christmas Spectacular" on Friday, December 1st.
"Shining Stars is all about being inclusive and giving our performers a chance to shine on stage while creating lasting memories," noted co-founder and show director Sally Curci. "These opportunities build all-important self-esteem and self-confidence. Through the journey, our cast members and their high school buddies create bonds and friendships that they'll always remember."
For more information on the organization or events, please visit ShiningStarsNetwork.org.