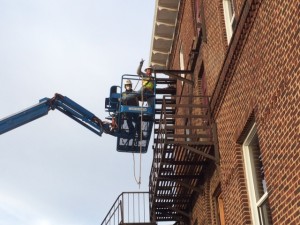 Construction is underway at the Gateway Family YMCA – Rahway Branch (Photo courtesy of the Gateway Family YMCA)
The Gateway Family YMCA – Rahway Branch has begun a large-scale construction project to enhance their facility for the Rahway community.
"This is an exciting time in the history of The Gateway Family YMCA. The ability to restore the entire facility for use is a huge undertaking, and a project that leaves us with a great feeling. These enhancements will allow us to better serve our members, Rahway, and the surrounding communities," stated Krystal Canady, CEO of The Gateway Family YMCA.
In 1981, the Rahway YMCA suffered a fire, essentially destroying the top two floors of the facility. The Gateway Family YMCA acquired the facility on Irving Street in 1996, which serves the areas of Avenel, Carteret, Colonia, Linden, Port Reading, Rahway, Sewaren, Winfield Park, and Woodbridge.
The expansive renovations at the Rahway Branch include restoration throughout the three floors damaged by fire, the addition of family locker rooms, additional program space, group exercise studios, complete renovation of the existing wellness and fitness areas, renovated locker rooms, a new lobby, welcome center, front entrance and the addition of new cardiovascular and strength training equipment. Included in the construction is a new elevator and handicap accessibility.
The Rahway Branch will offer Artist's Lofts within the newly renovated facility, providing dedicated space for artists (both amateur and professional) to help individuals and groups create and have artwork on display.
"The Rahway Branch is excited to begin this project, encompassing the entire five story building. We are happy to be able to give back to our members by providing an updated facility to help them achieve their health goals in 2014 and beyond," stated Gerry Gessie, Branch Executive for The Gateway Family YMCA – Rahway Branch.
The Gateway Family YMCA, formerly The YMCA of Eastern Union County, is a 501(c)(3) non-profit, health and community service organization. For more information about community programs and services provided by The Gateway Family YMCA – Rahway Branch, visit www.tgfymca.org or contact the Rahway Branch at Rahwayinfo@tgfymca.org or 732-388-0057.