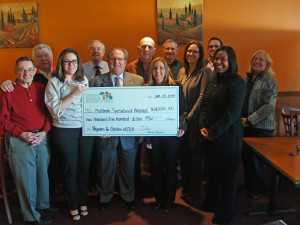 K – Kids – Kiwanis Club of Linden – Children Specialized Hospital
Submitted by Linden Kiwanis
February 23rd 2014 marked the successful conclusion of our annual Walk-A-Thon Halloween Parade Project which was held jointly with all our K-Kids Clubs on October 31,2013. Children's Specialized Hospital (CSH) was presented with $2,500. All proceeds raised by the K-Kids Clubs, the Kiwanis Club of Linden, inclusive of generous contributions received from Infineum USA Inc. and our community. This luncheon consisted of a powerful informative video about CSH.
Kiwanis International /Kiwanis Clubs of New Jersey, made a pledge to raise $500,000 over a 10-year period to be donated to Children's Specialized Hospital. Since this goal was already met these contributions will buy pajamas to provide warmth for children. CSH is the largest pediatric rehabilitation healthcare system in the United States. It is the preeminent provider of rehabilitation for children with special needs, serving children affected by brain injury, spinal cord dysfunction and injury, premature birth, autism, developmental delays, and life-changing illnesses. Linden residents do benefit from CSH services.
Rain or Shine this fun fundraising event has become a Linden Public Schools / Kiwanis club of Linden tradition. Special acknowledgement to School #4 who raised the most money with the support of Principal Anthony Cataline, their K- Kids advisor Ms. Danielle Piscino, the students and our Kiwanian Alfred Volpe.
Our Kiwanis Club of Linden was organized on November 7, 1946 and is looking to expand our membership. As this non-profit organization population ages; regeneration is vital. Kiwanis is an international organization and the mission is to change the world one community one child at a time. So let's continue to change Linden's future by continuing to teach children about serving others and community leadership. Through K-Kids, Builder Club and Key Club there is a Kiwanis presence in every Linden public school. Kindly contact June Lazaro at Primerica by calling 908 687-9008 for further information about membership and/or attending any of our meetings. Generally weekly luncheons are held at the Southern Smokehouse on Thursdays.
Look for future details regarding tentative upcoming events: Pasta Dinner: Thursday, April 24; 50/50 Annual Raffle: Thursday, June 12; Pancake Breakfast: Saturday, September 27; Taste of Linden: Wednesday, October 15.
Thanks to all of our community for the support of time and money throughout the years. Our success depends on our community. Thank you! Thank you!! Thank you!!!