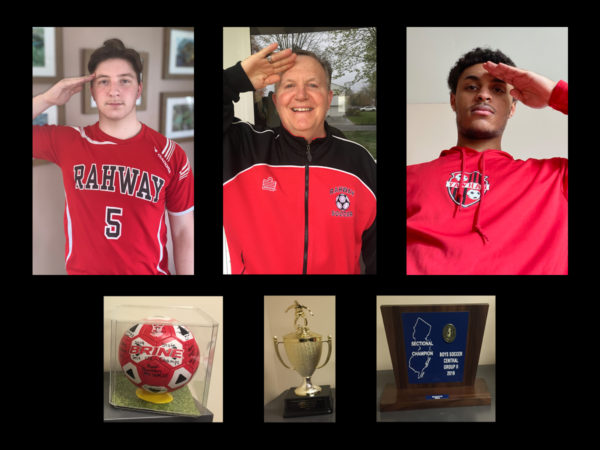 Rahway State Champs Salute First Responders
Submitted by Rob Kinch
Fear is ever-present. Anxiety and heartbreak are its unwelcomed partners. Yet each is unceremoniously set aside every minute, every hour, every day so that life can be nurtured, treasured and, hopefully, allowed to move forward. These emotions are conquered daily by your neighbors, the fabric of your community. They are the champions of life – a sublime but deserved title. They are the first responders, the doctors, the nurses, the neighborhood restaurants that ensure a hot meal is always available for all the community. It is they who must be celebrated and it is with admiration and respect that students from Rahway's high schools have taken this opportunity to proudly salute them.
Though heralded in November 2019 as Central Jersey Group II State Sectional Champs (the first time in 47 years), Rahway's high school Varsity Soccer Team's players are resolute in their determination to ensure that each and every one of the self-sacrificing 'champions' who set their personal well-being aside in the service of others receive the respect, recognition, and gratitude they truly merit.
"Those who are working on the front lines, who are risking their lives to help others, are the real-life heroes and champions in life," affirms team captain, senior Charles Cutignola. It is with this spirit and understanding that the team players, students from Rahway High School (RHS) and Rahway's Alternative Center for Education, are united in their wish to dedicate that long-awaited trophy to their heroes.
Commenting on their team's journey to that elusive championship, team captain senior Ryan Beenders notes, "Even though we were underdogs in our tournament run, we were still supported by our town." He adds, "Our front liners may be underdogs against the virus but, like us, they will win and defeat it!"
"On behalf of myself and my team," offers Senior Captain Jose Hernandez, "we are honored to dedicate our championship trophy to the warriors on the front line…the real heroes."
Union County Coach of the Year and RHS head Boys' Soccer Coach Kevin O'Callahan takes great pride in his 22 players and is deeply moved by their willingness to relinquish rights to their trophy. "Their effort, trust, and belief in one another game after game taught them what it took to become champions, yet they never lost sight of who the real champions are…the frontline workers." Voicing his team's sentiments, he adds, "Our soccer championship was for fun but their daily battle is about life and death. We salute all those on our front lines for the sacrifices they make for us." Rahway Athletic Director Tom Lewis is right there on the field alongside Coach O'Callahan with his sincere praise for each of the students on the team. "I could not be more proud of our State Soccer Champions. Coach O'Callahan and staff should be truly commended. This is truly a 'Rahway Strong Moment.'
Moved, but not surprised by the caring hearts her students have shown in this gesture, is their Superintendent of Schools Dr. Patricia Camp. "I witnessed many times when one of our players passed over a chance for personal 'glory' to allow a teammate the opportunity to help the team win. The team continues this esprit de corps with their dedication of their trophy and championship to our first responders and healthcare workers who are working as a team to keep us all safe during this pandemic." And, as player Ryan Beenders promised, "They WILL win!"
Photos by Rahway Public Schools, Ryan Beenders, Charles Cutignola, Kevin O'Callahan, Megan O'Callahan