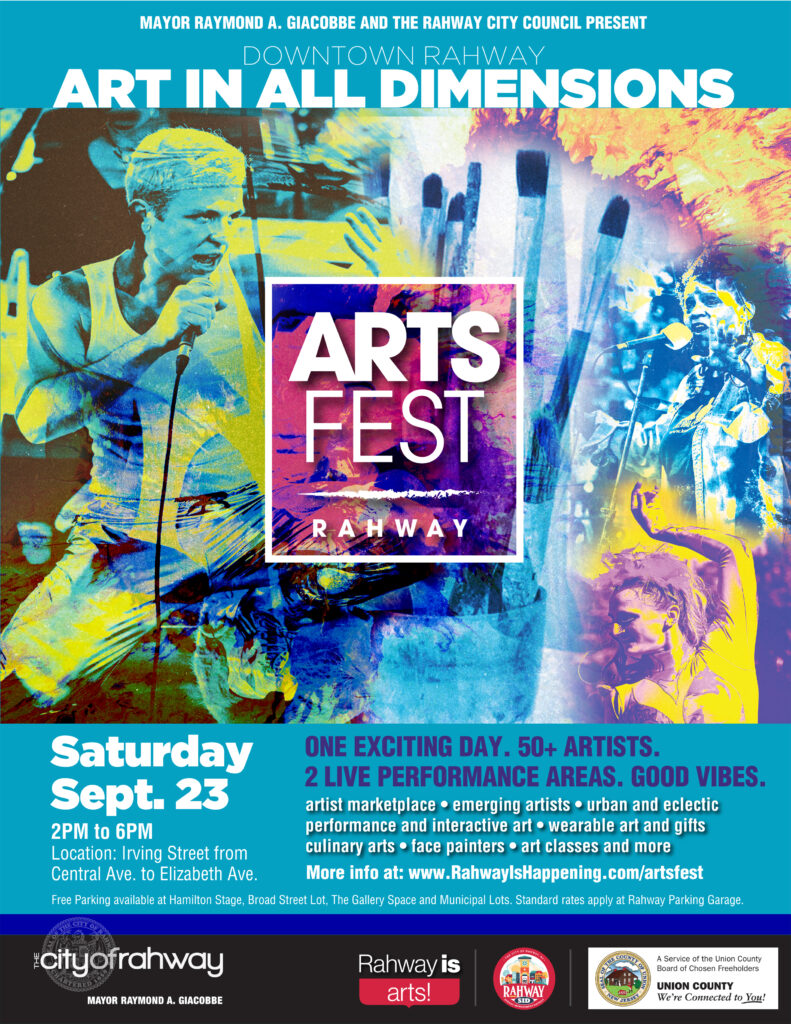 ArtsFest: Art in All Dimensions
The second annual ArtsFest: Art in All Dimensions will be held on Saturday, September 23rd from 2:00-6:00 p.m. on Irving St. from Central Ave. to Elizabeth Ave. ArtsFest is a celebration of the arts community that Downtown Rahway is known for and will showcase a variety of artists throughout all mediums for an impressive display of creativity.
ArtsFest will captivate visitors with over 50 artists, two live performance areas, and a variety of activities and attractions. Attendees can browse through an artist marketplace offering handcrafted creations made by local artisans, view the work of emerging and established artists, and watch urban and eclectic performances. To provide a truly immersive experience for attendees of all ages, ArtsFest will offer face painting, free art classes, and the opportunity to participate in interactive art displays.
"ArtsFest is a celebration that showcases the power of creativity in our community," said Mayor Raymond A. Giacobbe. "This event brings artists, performers, and art enthusiasts from all walks of life together to participate in Rahway's local art scene. We invite everyone to join us and experience art in its many forms."
After a day in the arts scene, visitors and residents of Rahway can wind down and enjoy a live performance from Ryan Adams at the Union County Performing Arts Center. This event will provide "Dinner and a Show" options with special offerings from local Rahway restaurants. To take advantage of these deals, simply present your ticket to a participating restaurant on the day of the show. More details are available at RahwayIsHappening.com/DinnerShow
ArtsFest is a free community event. Free parking will be available at Hamilton Stage, The Gallery Space, and Municipal Lots. Standard rates will apply at the Rahway Parking Garage. To learn more about ArtsFest, visit RahwayIsHappening.com/ArtsFest.