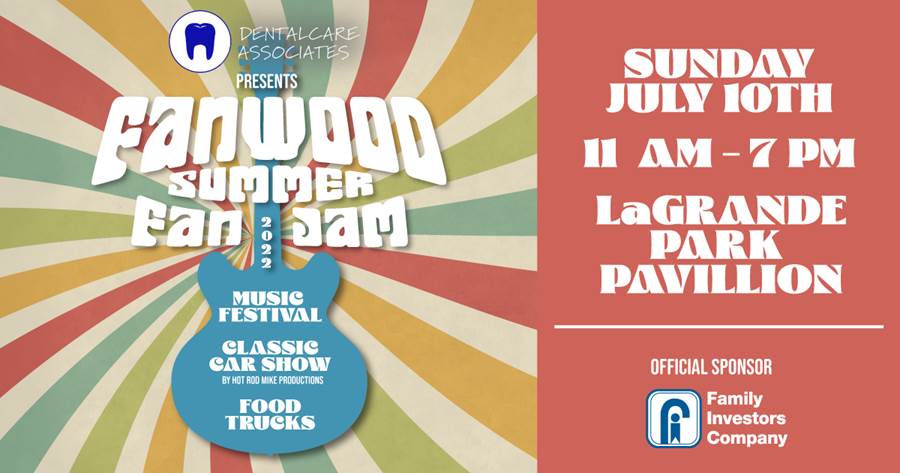 Fanwood Summer Fan Jam – July 10
On Sunday, July 10th from 11 a.m. – 7 p.m., music lovers, foodies and car enthusiasts will come together in Fanwood's LaGrande Park for the 5th Annual Fanwood Summer Fan Jam, Presented by Dentalcare Associates.
Gene Jannotti, CEO of Greater Westfield Area Chamber of Commerce, stated, "It is a great pleasure for the GWACC to once again bring Summer Fan Jam to Fanwood for a fun-filled family event complete with classic cars, food trucks, kids zone and music all day long."
"We have an exciting lineup this year, with music spanning 6 decades. Kicking us off is Jim Barone, the best Elvis Tribute Artist in the United States and also my former classmate from Westfield High," said Aimee Nuzzo, event director and Fanwood resident. "We have four spectacular acts, culminating in a tribute to The Eagles."
Fan Jam is a combination Music Festival, Food Truck Festival and Car Show that's geared toward adult music tastes but features attractions for kids as well. This marks a return to the festival's traditional time of year. Last year's event was held in September following the lifting of NJ Covid restrictions.
This year's music lineup will feature double headliners:
Winslow (5:30 pm) featuring four male tenor leads recreating the halcyon era of Live Eagles music! The Funktion Band (3:30 pm)mixes Funk, Soul, Pop & R&B to play favorites from Motown to today. They return to Fan Jam by popular demand! Mushmouth (1:30 pm) will get you in the party mood with fun favorite rock and pop songs from 70's to now. And Jim Barone (12 noon) is the best Elvis Tribute you'll ever hear. You'll swear you're listening to the King himself. All of the acts are New Jersey based.
For those adults 21 & over with ID, you can enjoy a front-seat view of the show from the Sheelen's Crossing Beer and Wine Garden. For the kids, we have a centrally located Kids' Zone which will feature children's rides and attractions within the park, with the purchase of tickets.
For the Car Enthusiasts, the festival will draw more than 100 vintage and classic cars as part of a car show hosted by Hot Rod Mike. Portions of Helen Street, 2nd Street and LaGrande Avenue will be closed to traffic for the car show, which is open to all. Cars register upon arrival on a first-come basis for a fee of $10.
FanJam goers can sample a diverse cuisine from food trucks and local restaurants. So, bring your lawn chairs, picnic blankets and the whole family.
There is Free Parking available at the South Side lot of the Fanwood train station. Please note that pets, skateboarding and roller blading are prohibited in the festival area. For further information, please contact the GWACC, 908-233-3021, or visit the website gwaccnj.com and look for Street Fairs.