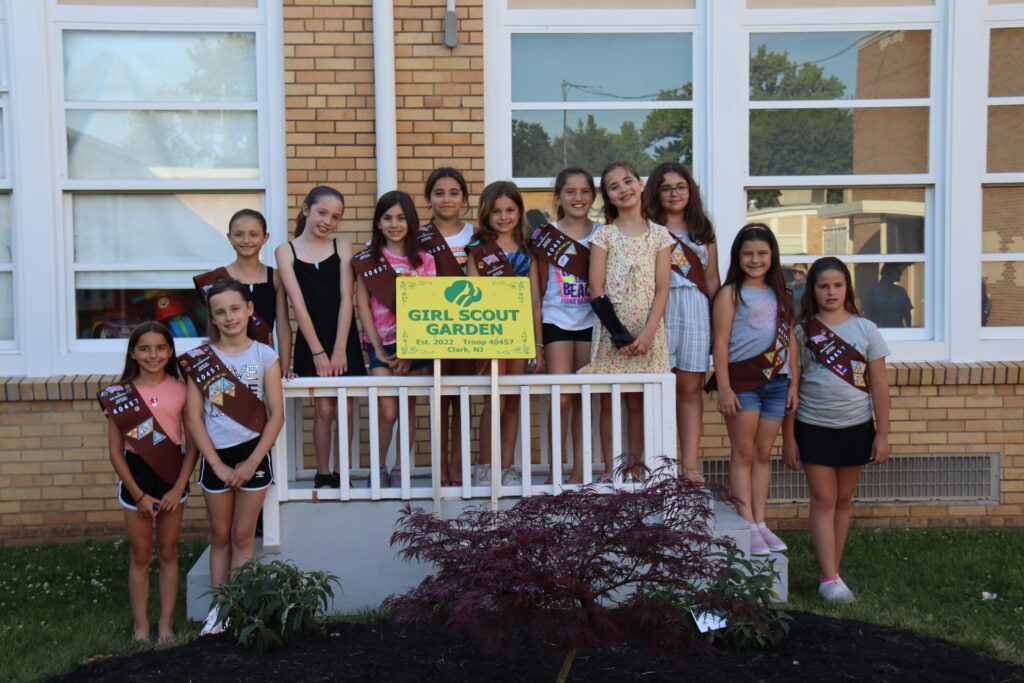 Girl Scout Garden
Clark Brownie Troop 40457
"From little seeds, grow mighty trees"- and that is exactly what 3rd grade Clark Brownie Troop 40457 aims to do with their newly installed Girl Scout Garden that was completed at the Clark Recreation Center recently. It was a labor of love between the parents, community volunteers and local business owners as well as each of the Hehnly third grade troop's 12 members. Troop 40457 is proud to open the garden to any troop wanting a quiet outdoor space to meet, bridge or enjoy.
The idea for the garden was born last fall, when troop leaders, Kim Albarella and Cara Sullivan Kropp came up with the idea for a 'mindfulness garden' after seeing inspiration from what a neighboring town had accomplished. At their first meeting in September 2021, the troop members sketched out architect plans for what each girl thought should be included. Each idea was better than the next and included bird baths, sitting space, flowers and flowing water. The girls also committed to use 100% of their fundraising profits to put towards materials for the garden.
The next step was to seek support from Clark Recreation Director, Ralph Bernardo, as a township-owned site was preferred. Ralph embraced the idea immediately and offered several options for locations at the Recreation Center to develop. The winning location was voted on by the Troop and real plans began to unfold. In addition to the space Ralph offered, he also helped with the centerpiece of the garden – the bridge. Ralph rescued the platform from being disposed by Clark Preschool and then it was upcycled by Kylie Kropp's uncle Art Tommins to become a "bridge." This bridge now stands as the focal point of the garden.
Clark resident and owner of Hayden Landscaping, Marc Hayden generously donated his time and labor over months to help plan, purchase materials and help with breaking ground. Many parents were involved in various stages of development including Troop mom's Marcella Cutrona, Jill Tobin, Kelly Cuoto, Clara Perdiz, Marcia Henriques and Becky Triola. Troop dads also contributed by doing the heavy lifting and building including Anthony Carbonara and Andrea Cutrona. But most of the praise goes to the Troop members who hauled topsoil and mulch, helped Marc Hayden dig out spots for butterfly bushes, a red maple tree and various bushes. Adirondack chairs and a picnic table round out the space.
Troop 40457 members include Avery Albarella, Kylie Kropp, Roseanna Cutrona, Alyssa Perdiz, Briana Tobin-Montanez, Anniston Triola, Sofia Carbonara, Autumn McHugh, Juliana Henriques, Jaida Jacobs, Brooklyn Conoshenti and Elena Cuoto.
The take-away from this year-long project that leaders Cara and Kim hope to instill in their Troop is that investing in your local community will benefit all. We are so proud to have a small piece of the legacy of what it means to be part of the Clark Township Community and they look forward to seeing what the little seeds grow into.