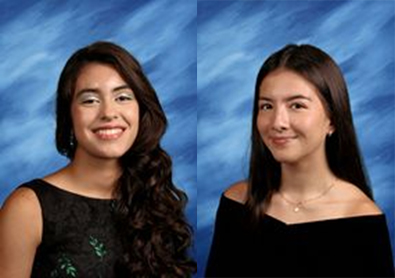 DBHS Names Valedictorian and Salutatorian
Kenilworth Public Schools
The journey to the head of the Class of 2023 was filled with adventures and achievements for David Brearley High School's valedictorian and salutatorian.
Liz Gonzalez, named valedictorian after recording the highest GPA in her graduating class, has a unique way of describing her secret to success.
"I am proud of the fact that my personality is similar to a tick on a deer – very hard to shake off," said Gonzalez. "I have remained true to myself throughout these four years of high school and have not strayed from my path."
Gonzalez was a member of the school band and a performer with lead roles in "Mean Girls" and "The Little Mermaid" (as Sebastian the fish). She also worked behind the scenes as the chorale manager and an illustrator for Brearley's school newspaper, The Bear Print.
Despite her busy schedule, Gonzalez said she has figured out a work-life balance that most people would envy.
"I know when it is time to focus on work and when it is time to focus on my family," she said. "Although I have a lot to do, I do my best to keep track of everything and allocate the time necessary for all my tasks and activities."
Gonzalez also participated in prestigious academic groups including Scholars Academy and the National Honor Society, and was a member of the GSA Executive Board, she plans to study clinical and neurological psychology at William Paterson University in Wayne.
She would advise future Brearley graduates to give high school their all – and to do it all early.
"If a deadline is a month away, jump on it as soon as you get it. Never give something 50 percent effort because it doesn't seem to matter," Gonzalez said. "Even miniscule assignments will teach you something you can take with you for the rest of your life."
Kristy Leiva, whose second-highest GPA earned her the title of salutatorian, is also a member of Scholars Academy and the National Honor Society. She rounded out her high school career with participation in music, sports, social justice clubs and more.
Taking as many Advanced Placement (AP) courses as possible at Brearley helped Leiva chart a successful path.
"Having this exposure to rigorous courses will allow me to succeed in college as I have well adapted to course load and the expectations that teachers set for students along with it," she said.
Leiva was a member of the competition cheer team, a drum major for the marching band, and editor-in-chief of the school newspaper. She showed an interest in societal issues, becoming co-president of the Race Matters Alliance and Conversation Matters.
"What I enjoyed the most about my high school years are the opportunities I had to make a difference within the school community. Involving myself with community service, Race Matters, and other groups allowed me to not only educate and assist others, but it allowed me to make great connections and friendships," she said.
Leiva will attend Johns Hopkins University, where she will major in molecular and cell biology with a pre-health track. She said achieving the rank of salutatorian took her by surprise.
"I truly I did not expect this. I knew that I would challenge myself and accomplish as much as possible academically, but never would I have thought to have accomplished being the top of my class. It was truly one of those 'I finally did it' moments," she said.
Brearley Principal Jeremy Davies noted that the class leaders' accomplishments are particularly noteworthy since they are both first-generation college students.
"The least I can do to give back to my family as a first-generation student is to put all my focus into my schoolwork," Gonzalez said.
Leiva agreed, adding, "I knew that through all my accomplishments my parents would always be proud of me, but I felt like I accomplished what they came to America for, and I could never be more proud of myself for doing it."
Davies is very proud of Leiva and Gonzalez as well.
"I want to thank Kristy and Liz for their hard work, their determination, for always pushing themselves beyond the limit," Davies said. "They are model Brearley citizens; students who have always conducted themselves with honor and integrity. They make this school a better place because of their generosity of spirit."
Davies noted that the Class of 2023 overall "has demonstrated very strong academic abilities, with many students who have pushed themselves to great heights."
David Brearley High School's Class of 2023 will graduate on Friday, June 23.