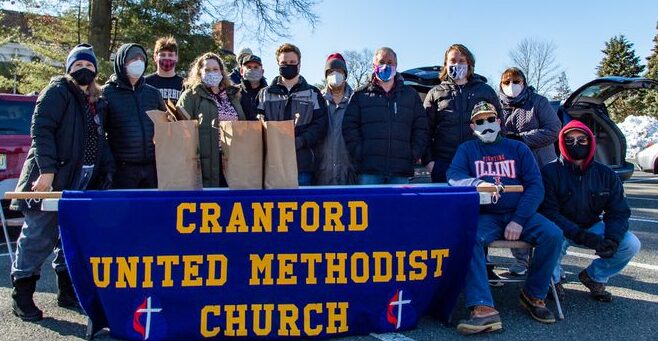 Help Fight Food Insecurity
Cranford is a great town with many houses of worship and community organizations that make it a great place to live. But we know that there are many neighbors both in Cranford and in nearby towns where families are facing job loss and health crises. The pandemic has further added to the gravity of the challenges.
At Cranford United Methodist Church, we asked ourselves, how can we make a difference? And in troubled times, how can we model kindness and generosity for our children?
Our church has a huge parking lot (next to the public library on Walnut Avenue) and a big building with an industrial-size kitchen that enable us to host community service projects to address hunger and poor nutrition.
So, we launched a series of activities that we can do with our kids and we invite you and your family to come join us. (You do not have to attend our church to participate.)
Here are a few of the projects you may want to participate in:
The Little Free Pantry – The pantry is located in our parking lot. Drop off your food donations or pick up food for your family anytime, 24/7. Eagle scout, Josh Schwartz created this pantry (Go, Josh!).
Drive-Thru Food Collection Events – drop-off your food donations on the scheduled monthly events in our parking lot. Drive up, pop your trunk and volunteers will remove your bags with no contact needed! Want to volunteer? Send us an email cranfordmethodist2@gmail.com and follow us on Facebook to get updates for future events, facebook.com/cranfordumc. If you need ideas on what types of food to donate, let us know.
Food Collection bins – Can't make it to the Drive-Thru events? There are bins outside the door to the church off the parking lot where you can drop off your food donations anytime 24/7.
Sandwich-Making Events – bring the kids and help make sandwiches for families in need. (Temporarily suspended due to the pandemic.) Follow us on Facebook to find out when the next event is.
All food donations are delivered to Cranford Family Care, St Joseph's Social Services Center in Elizabeth and other local organizations. At the last Drive-Thru, we delivered 11 vans filled to the brim with food.
Even as we start to inch slowly toward a new "normal", hunger continues in our area. Some of our neighbors aren't worried about haircuts and vacations, but how to pay the rent and put food on the table. The need is great. So, come join us.
Love your neighbor as yourself. (Matthew 22:39)
This is the second of a series of articles by churches of the Cranford Clergy Council. This article was written by Sue Green, with photographs by Paul Lachenauer, submitted by Skip Winter.