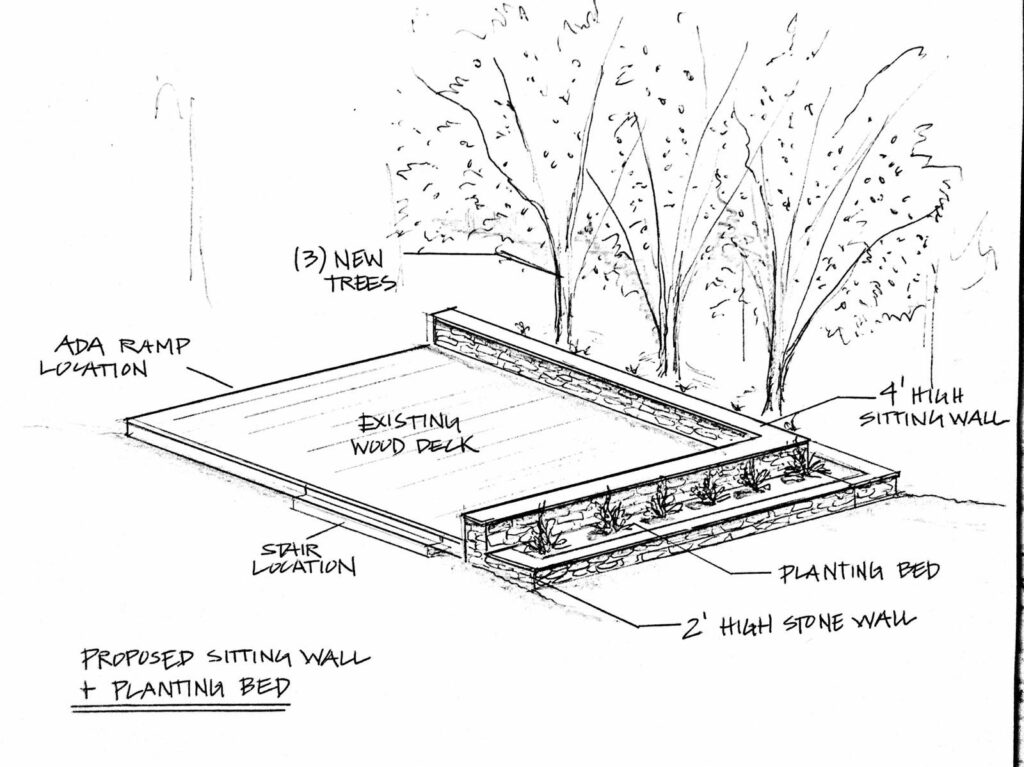 Columbia Park Gathering Place Project
Submitted by Berkeley Heights Environmental Commission
Lower Columbia Park, a main gathering place for Berkeley Heights residents and host to numerous visitors each year, currently lacks a place where guests can rest before entering the bike/walking trail or entering the park itself near the tennis court area. It also suffers from stormwater runoff and flooding from the creek that flows to the Passaic River. A new initiative, the Columbia Park Gathering Place Project, seeks to address all of these things.
The Project, made possible in part by a 2020 Association of New Jersey Environmental Commissions Open Space Stewardship Grant, is a joint effort between the Berkeley Heights Environmental Commission and the Berkeley Heights Recreation Department. The Project, which will beautify Lower Columbia Park, is aimed at accomplishing three key environmental and educational objectives: (1) provide an additional seating/rest area for park visitors; (2) use nature as a stormwater management tool; and (3) educate the public about stormwater management and how using trees serves as a natural means to address this issue.
As the brainchild of Carolyn George, Associate Recreation Director for the Recreation Department, the Project will consist of a brick retaining wall that doubles as a seating area, hosts 10 native shrubs in a planting bed, and is adjacent to three new, swamp-friendly trees. These trees will collectively serve as a stormwater management device due to their ability to absorb groundwater. The seating area will provide visitors with a convenient alternative to the seating area at the picnic tables located deeper into the park. To educate the hundreds of people who visit the park annually, a new sign near the seating area will be erected and will describe the trees' role in managing stormwater run-off in the Project area.
Not only will this Project serve as a park improvement, it is also envisioned as serving as an "outdoor classroom" for science teachers and students from Columbia Middle School, which is located adjacent to the park. The hope is that the school's science teachers will be able to access this "outdoor classroom," similar to the outdoor classroom at Governor Livingston High School that the AP Environmental Science class uses.
The Environmental Commission and the Recreation Department gratefully acknowledge and thank local landscaper Joe Franchino (jlfranchino@comcast.net) of JLFranchino for volunteering his time, effort, and expertise with respect to the Project's initial stages. The Berkeley Heights Department of Public Works (DPW) will be providing additional assistance with the Project going forward.
For more information and pictures regarding the Project, please visit the Environmental Commission's website at: berkeleyheights.gov/1471/Columbia-Park-Gathering-Place-Project.