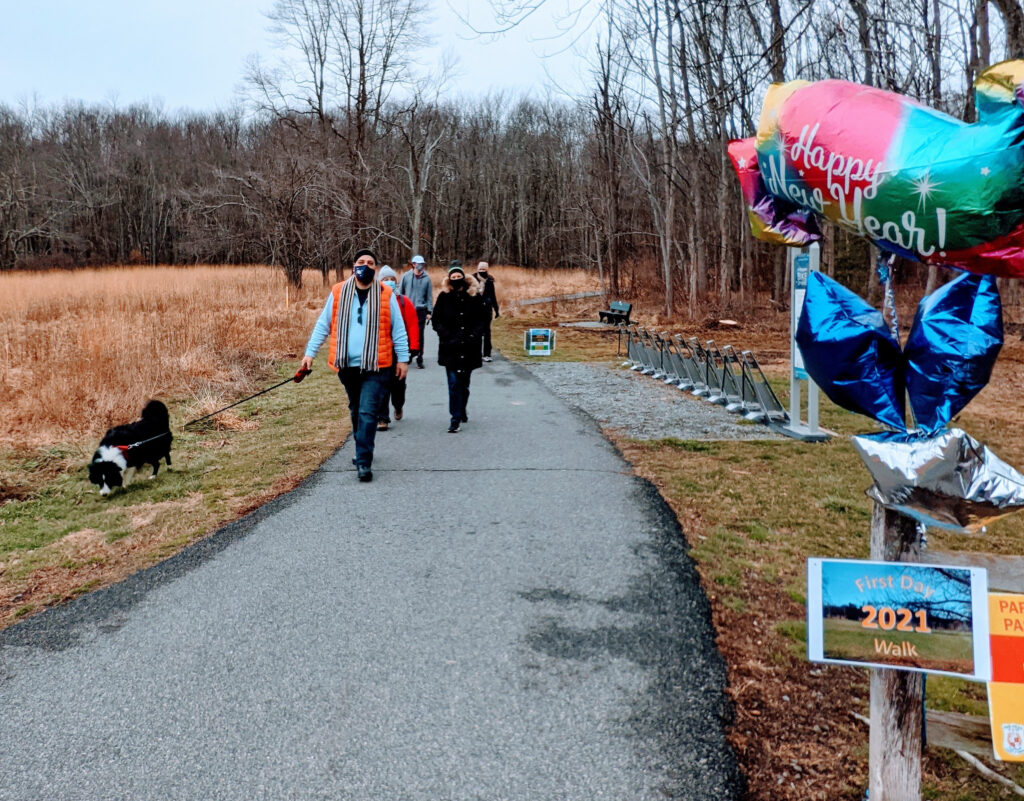 Chatham's First Day Walk for Open Space
Submitted by Joseph Basralian
Chatham's First Day Walk for Open Space helped nearly 300 participants start the New Year with a bright and healthy outlook. The turnout was more than double last year's inaugural New Year's Day walk.
BSA Troop 280 of Chatham hosted the event as a service project for the community and to raise funds for Scouts' local outdoor stewardship work in 2021, including tree planting, new trail creation, stream quality monitoring and more. The troop, consisting of 27 girls ages 11-14, will use the $2,300 raised by the walk for some of its own service projects and will make grants to nearby BSA Scouting units as well.
"It was so much fun for us to step up and run the First Day Walk again this year," said Amelie Lambert, age 12, the troop's Senior Patrol Leader currently. "It was exciting to see the community come out in support of open space."
Community members purchased $10 tickets and received a commemorative pin and a send-off with ringing chimes. To avoid any crowding, participants arrived and started walking when convenient to them within a four-hour window on New Year's Day. The Scouts also counted more than 40 dogs who came with their owners. Some sported their shiny new pin on their harness.
Walkers began the 2.5 mile walk at the Loantaka Way parking lot of Loantaka Brook Reservation in Chatham, went through the park and across Woodland Avenue, completed the loop trail in Giralda Farms Preserve, and returned the same way. The Morris County Park Commission counts well over 10,000 walkers on that trail every year.
"We have a very caring community," said Daniele Basralian, the troop's Scoutmaster since its formation in February 1, 2019, the first day girls were permitted to form troops with BSA. "An event like this creates a virtuous circle of Scouts wanting to volunteer even more of their time and creativity in the year ahead."
As the BSA Scouts complete service projects made possible by First Day Walk funds, they post photos to the Facebook page, "First Day Walk – New Year's Day" for all to enjoy.
For more information, Troop 280 can be contacted through their Facebook page or troop280chatham@gmail.com.
Photos by BSA Troop 280 of Chatham