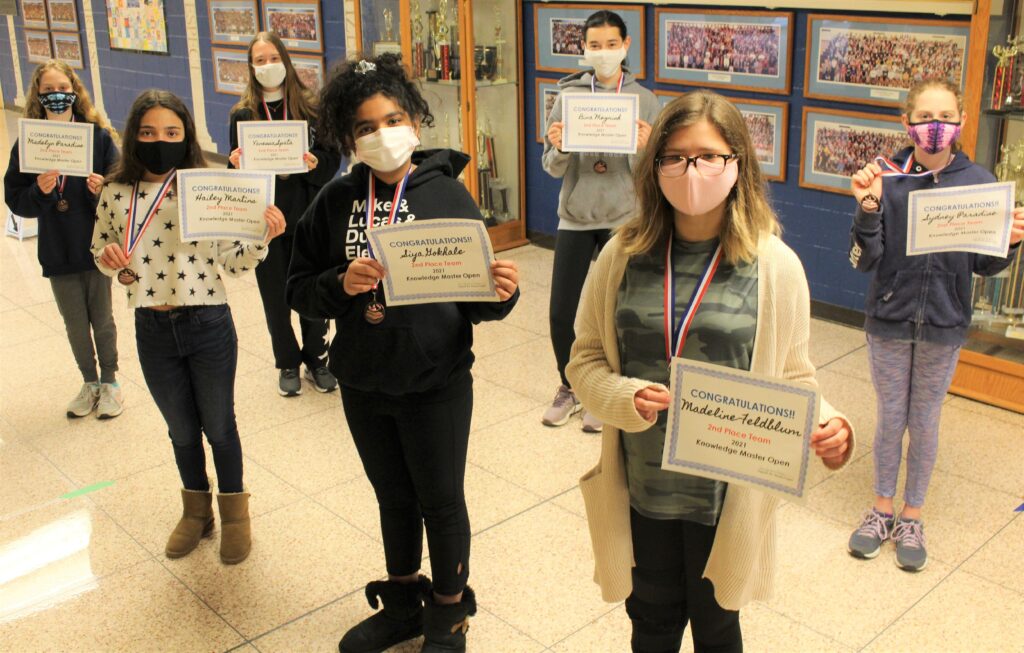 WMS Students Recognized at Knowledge Master Open
Submitted by Shannon Regan
On Wednesday, April 7, Dr. Susan Cooper, Warren Middle School (WMS) E2 Teacher, was notified that her team of grade 6 WMS students had received 2nd place in the nation at the Knowledge Master Open.
The Knowledge Master Open is an asynchronous computerized academic challenge. Teams from across the country compete in the rigorous competition.
The Knowledge Master Open is among many academic challenges sponsored by an organization called Academic Hallmarks. The founders of the organization believe that academic challenge gives people who love knowledge a peer group, as well as helps to build confidence and teamwork. The organization strives to expand opportunities to people of all ages in all schools, businesses, and organizations. Academic Hallmarks believes that by expanding services they can meet the needs of all who want these challenges.
In addition to Cooper, Mr. George Villar, WMS Principal, and Ms. Maria Mensinger, WMS Assistant Principal, are extremely proud of the team of students. "Our students engage in this academic challenge on a voluntary basis, which is a testament to their desire to expand their minds. Their dedication is a credit to our entire school community," said Villar.
Cooper and her team of students thoroughly enjoyed the academic challenge. "Team-based quiz bowls like these provide an opportunity for students to bond and to critically think in a competitive setting. This was one of the first times this year for our 6th graders to compete. They did a super job! Looking forward to more bowls and bees in the months to come."
On Monday, April 12 during the Warren Township Board of Education meeting, Dr. Matthew Mingle Superintendent of Schools congratulated the team of students and their coach, Dr. Susan Cooper on a job well done. 
Photo by Warren Township Schools