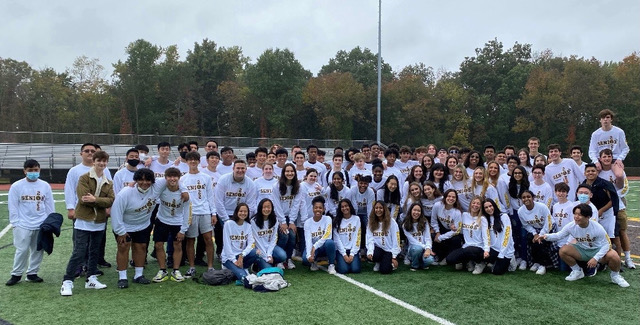 Project Graduation – Seeking Donations
2022 marks the 31st year of Watchung Hills Regional High School's Project Graduation. A volunteer team of parents of WHRHS seniors comes together to plan events for the graduating class throughout the year that lead up to a safe and fun graduation celebration for the entire class.
Traditional events include the Senior Panoramic Picture Day (shown in the photograph), where each senior is given their Senior Warrior t-shirt, and several Senior Week events, including a Yearbook Signing social, Senior Breakfast and the end-of-year event held on graduation night!
The past two years have been challenging to plan during Covid. In 2020, the event itself was canceled, but the committee did a great job finding alternative ways to celebrate the class. Last year, the committee had to wait until the last minute to finalize plans given the restrictions on indoor gatherings. No matter the challenge, the Project Graduation tradition has continued in some form or another to celebrate our seniors.
This year continues to be a challenge and a struggle for our students as they navigate their final year of high school amidst the uncertainty of the pandemic. However, this senior class is a resilient group of Warriors, and we are so proud of all they have accomplished. We hope this event will give them the celebration they deserve so they can put the years of uncertainty behind and create memories to last a lifetime.
The committee is excited to announce this year's action-packed night will be held at Iron Peak Sports & Entertainment in Hillsborough, NJ. Graduates can choose from a full night of fun, including rock climbing, ninja courses, basketball, pickleball, volleyball and other sports, a new video arcade, live entertainment and so much more. Of course, food and drinks will be provided throughout the night for them to share this final night with their classmates.
All 520 WHRHS are welcome to attend the Project Graduation event free of charge. Every senior will participate in the Senior week events leading up to Project Graduation as well. The committee relies entirely on fundraising to make this enormous event happen, including donations from the WHRHS community. If you or your business is interested in donating or providing a service, please reach out to ProjectGradWHRHS@gmail.com or send your donation directly via check made out to Project Graduation, 108 Stirling Road, Warren, NJ 07059. We also accept Venmo @WHRHS-2022Project Graduation – be sure to email us your details so we can ensure you receive acknowledgement. All donations are tax deductible and will be mentioned in the Graduation program.
Thank you in advance for supporting our students.
Laurie McLeod & Cristina Nunes – Co-Chairs
Sushama Sekhar – Treasurer
Tina Osmond – WHRHS PTO President