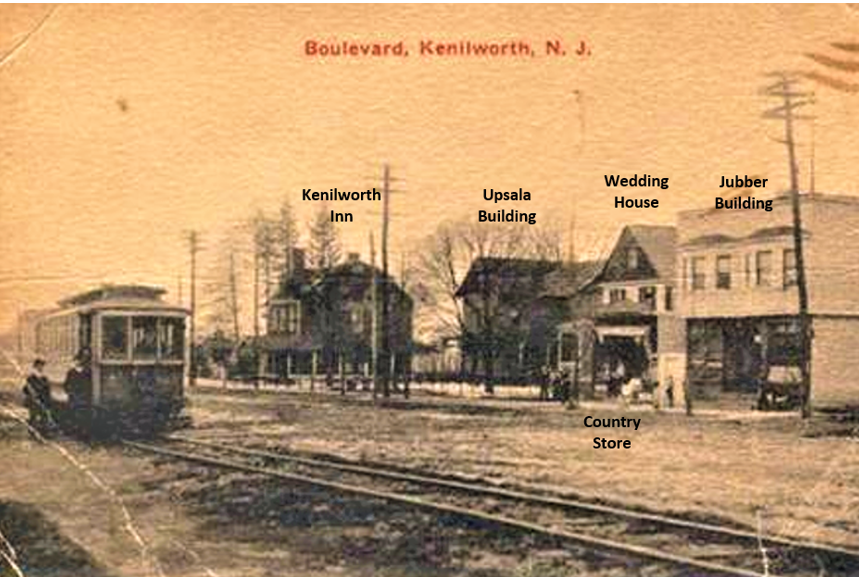 OLD KENILWORTH – The wedding present house
It takes a discerning eye to see one of Kenilworth's oldest houses – but it is right there in the center of the Uptown shopping district. Partially hidden by a salon shop added to the front of the house about 1969, it sits at 508 Boulevard. Built in 1894-95, it was a wedding gift from a young groom to his young bride. Old-timers called it "the Dr. Blair house" while others "the Jubber house."  Perhaps "the wedding present house" is better choice?
Dr. James A. Blair (1867-1931) and Grace E. Morley (1869-1955) were married in 1894.
Dr. Blair promised Grace a new home as a wedding gift. He fulfilled his promise and there they had three children: Ethel, 1895; Mildred, 1902; and Frank, 1904. The family moved to Newark sometime before 1910 where Dr. Blair established a new and much larger practice.
Dr. Blair was Kenilworth's first physician. In colder times of the year he could be observed walking about in his frock, which he loaned at times to the less fortunate.
Now you might ask, "Who were the Jubbers?" Records indicate that Harry (1851-1933) and Amelia (1858-1940) Jubber arrived locally about 1898-1899. Sometime after the Blairs left, the Jubbers moved in with their children: Mary, 1875; Alfred, 1877; Albert, 1879; and Edward, 1882. The entire family was born in England. Harry and his sons were house painters and found an abundance of work in early Kenilworth. Harry built a few houses and a number of stores. He built Jubber's Country Store, 510 Boulevard, later owned by Nettie Vitale Lisanti which was converted years later to the Variety Cleaners operated by her son, Charles Vitale. Charlie replaced it in the 1950s with a new real estate building. Jubber also erected the old Kenilworth Liquor Store building, 512 Boulevard. It was destroyed by fire about 1970.  Prior to becoming a liquor store one side of it hosted Doc Lisanti's Luncheonette and the other side a barber shop.
Older homes still standing include the Shallcross house, Springfield Rd.; the Frost farmhouse, Cross St.; the Aaron Faitoute farmhouse, Newark Ave.; the Nitschke House, S. 21st St.; and the McQuaid house, N. 17th St.
As a boy I remember the wedding house. It was a large stately, clapboard structure boasting a substantial front porch with pillars. The top half of the wide, mahogany front door bore a beveled glass window bordered by tiny squares of multi-colored panes of glass. It had an ornate, brass door knob. It surely was worthy of being a bride's wedding present.
Research provided by Walter E. Boright, Ed. D., historian, and Historic Signs, Inc. Persons with inquiries about this or other aspects of Kenilworth history may contact Dr. Boright at drbori@aol.com or 908-256-5200.
Photo credits: Historic Signs, Inc.