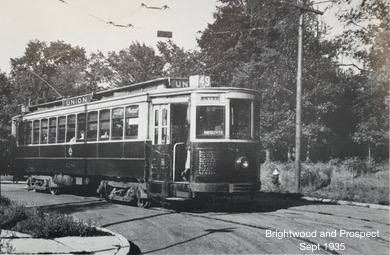 AppleFest 2021 – Oct. 16
On Saturday, October 16, 2021 (rain date October 17), the Westfield Historical Society will hold the Annual AppleFest on the lawn of the Reeve House, 314 Mountain Ave., Westfield from 12:00-4:00 p.m. On the same weekend, the Westfield Historical Society will also host Union County's Four Centuries in a Weekend Open House at the Reeve House.
Now in its 13th year, AppleFest is an annual fund-raising event, hosted on the lawn of the Reeve House on Mountain Avenue, and it draws visitors of all ages who participate in activities centered around a "theme" that celebrates a particular historical time, past or present. The theme this year will focus on the Downtown trolley, operating in the early 1900s and connecting a few of the local towns (Piscataway, Dunellen, Scotch Plains, Westfield, Roselle, Rahway, Woodbridge). Our AppleFest theme is aimed to align with the Westfield Green Team's focus on alternative transportation, highlighted by a family-friendly bike tour around town and an e-car show. Both of these events are planned for early fall.
As always, younger children visiting AppleFest will enjoy participating in old-fashioned outdoor games, a treasure hunt and pumpkin painting while their parents can enjoy learning about the downtown trolley through a short "Lightning talk" and other visual exhibits. The Westfield-native Save Mary Band will entertain with favorite tunes from the last four decades. Our celebrated Apple Café will feature new selections by chef Greg Hichok.
Upholding another long-standing tradition, AppleFest 2021 will sponsor an art contest for elementary and middle school students, drawing on the theme of "Alternative Means of Transportation". The apple pie contest is coming back this year and will be fierce! Please stay tuned for details. We do not have a downtown trolley anymore but we encourage all visitors to consider coming to the Reeve House on bicycles, tricycles, unicycles, wagons, strollers, roller skates, skateboards, longboards, scooters, a horse-drawn carriage or any other "green" transportation.
Admission is $5 per person, and free for veterans and children under 3 years old. We are grateful to all the sponsors who support us, and all Westfielders for their commitment to this town, its past and its future. The Westfield Historical Society's AppleFest Committee looks forward to seeing many families on October 16.
AppleFest is open to all members of the community, but reservations are encouraged. All who are interested in attending should please plan to make reservations with the Westfield Historical Society at 908-654-1794; or by email to westfieldhistoricalsociety@gmail.com. Our Society, acting in good faith, welcomes all eligible vaccinated visitors to attend our outdoor events without masks and would encourage non-vaccinated visitors to wear a mask. Masks are required indoors for tours. We will of course continue to follow closely all state and federal guidelines and if needed, adjust our plans accordingly.
Since 1968, the 501(c)(3) non-profit Westfield Historical Society has worked to preserve, interpret, and encourage interest in history, Westfield, and its residents through educational efforts and community outreach programs. For further information on the Westfield Historical Society and its activities, or to volunteer, call 908-654-1794 or visit westfieldhistoricalsociety.org, like on Facebook and follow on Instagram.
Photo courtesy of the Westfield Historical Society