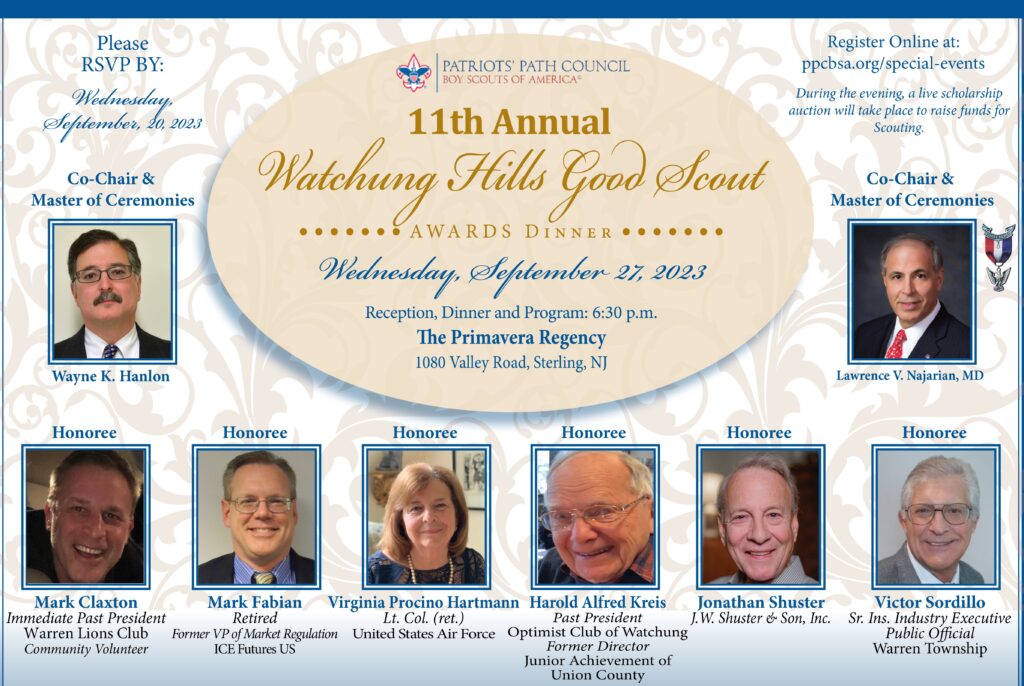 Outstanding Citizens To Be Honored
Boy Scouts of America, Patriots' Path Council will be honoring local citizens at the 11th annual Watchung Hills Good Scout Awards Dinner to be held on the evening of Wednesday, September 27th at The Primavera Regency in Stirling. This year's Good Scout Award honorees are Mark Claxton, Mark Fabian, Virginia Procino Hartmann, Harold Alfred Kreis, Jonathan Shuster, and Victor Sordillo.
The event recognizes outstanding citizens for their community service, as evidenced by their leadership and interests within the communities of Basking Ridge, Warren, and Watchung, and for their embodiment of the values of the century old Scout Oath and Law in their personal and professional lives. The event co-chairs are Wayne Hanlon and Larry Najarian, past Good Scout Award recipients and active volunteers and leaders in the community.
Mark Claxton is Immediate Past President of the Warren Lions Club and an active community volunteer; Mark Fabian has volunteered with Scouts BSA Troop 555 of Basking Ridge and the at the Berkeley Aquatic Club in New Providence; Virginia Hartmann has volunteered for the Watchung Library since 2010; Harold Kreis is the past president of the optimist club of Watchung and is a former director at Junior Achievement of Union County; Jonathan Shuster is the owner of J.W. Shuster & Son, Inc. and has volunteered with Scouts BSA Troop 555 of Basking Ridge ; and Victor Sordillo is a member of the Warren township committee and has served the town as Mayor for six terms.
These communities are a part of the Patriots' Path Council, Boy Scouts of America along with the counties of Middlesex, Morris, Somerset, Sussex, and Union. In the council, over 5,000 adult volunteers deliver the values of Scouting to over 10,500 Scouts.
For more information on Scouting in Patriots' Path Council, attending the event, and sponsoring the program journal, contact Jennifer Volz, Sr. Development Director, at 973-765-9322 ext. 249 and/or jennifer.volz@scouting.org.