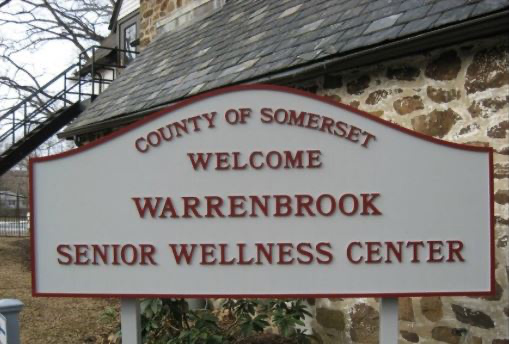 Warrenbrook Senior Center
Warrenbrook Senior Center located at 500 Warrenville Road is one of the six county operated Senior Center. Somerset County residents who are 60 years and older are welcome to participate in any of the programs at Warrenbrook Senior Center. They also provide a choice of 4 different meal choices during lunch that seniors can take advantage of during the weekdays. All the programs are FREE for the registered members. Please (908) 753-9440 for more information on how to become member of the Warrenbrook Senior Community.
Below is the highlight of some of the programs available at Warrenbrook Senior Center in May.
May 1, 8, 15 & 22, 10:30 a.m. – Healthy Aging with Brenda Miller, Community in Crisis Senior Education Director. This is a seven-week wellness program for adults 60 years of age or older. The program's interactive lessons provide valuable education to older adults on topics including health and wellness, medication use, stress management, depression and substance use and misuse. The seventh session will discuss alternative ways to manage pain such as yoga, chiropractic care, massage and more. Attendance at all (or most) sessions is required.
May 3, 11 a.m. – The Spirit of Making Spirits by Camden Winkelstein, Bellemara Distillery. Learn the chemistry process, vernacular, and personal passion Bellemara takes when making spirits.
May 4 & 18, 11 a.m. – Basic Computer and iPad Instruction with Parul. Basic computer and iPad instruction. The topics that will be covered will vary every week and will depend on the needs of the center participants.
May 5, 11 a.m. – The Warrenbrook Derby. To enjoy the real Kentucky Derby on May 6th, we will play our own version; the Warrenbrook Derby. We will name each horse per table and participate in the racing contest with the other teams. No Kentucky Derby can ever be held without a Mint Julep. We will share the recipe and sample some virgin Mint Juleps. Wear your colorful hats and be prepared for some laughter and fun as we race our horses to the finish line.
May 5 & 19, 11 a.m. – Brain Games and Hand Bells with Adrienne Graubard. Did you know that solving puzzles or challenging yourself with new mind-stretching activities like learning music can stimulate the brain and enhance your creative and critical thinking processes? Join Adrienne for some mind-tingling, brain-stumping, word games and a fun-filled musical workout using handbells.
May 10, 11 a.m. – Fall Prevention by Dr. Nisha Rele, BSME, PT, DPT. Dr. Nisha Rele will present a talk on fall prevention and active aging. She will discuss information on why falls happen, how to prevent them, and exercises to work on for improved strength and balance. Dr. Rele will also lead a boxing and strength training class for the group.
May 11, 11 a.m. – Armchair Travels: Patagonia with Parul. Argentina is a land of staggering diversity from the dramatic grasslands of Patagonia to the end-of the-world archipelago of Tierra del Fuego. Today we will watch the Patagonia Expedition and Argentine Tango Dance. We will also learn about the Gaucho Culture. Similar to what American's would call cowboys.
May 12, 11 a.m. – Craft: Paint Palette Mother's Day Tulips with Parul. A convenient way to create a beautiful watercolor painting. All supplies will be provided. Pre-registration is required. Please call (908) 753-9440 for more information.
May 17, 11 a.m. – Comedy Magic Show with Ed Smoot. Be ready for fun times with some laughter and giggles.
May 24, 11 a.m. – Older American's Month Performance with James Barba who not only will play songs, but also make you sing the songs from the 50s and 60s. He will also play music to celebrate the Memorial Day Holiday.
May 26, 11 a.m. – Craft: Ceramic Vases with Parul. All supplies will be provided. Pre-registration is required.
May 31, 10:30 a.m. – Free Blood Pressure Screenings & Presentation. The Somerset County Vo-Tech students will be onsite to provide free blood pressure screenings. No appointment is necessary. Students will also give a presentation on how to chart your blood pressure which can help you figure out if your blood pressure is at a healthy level or if you need to take some steps to improve your numbers using either exercise or diet.