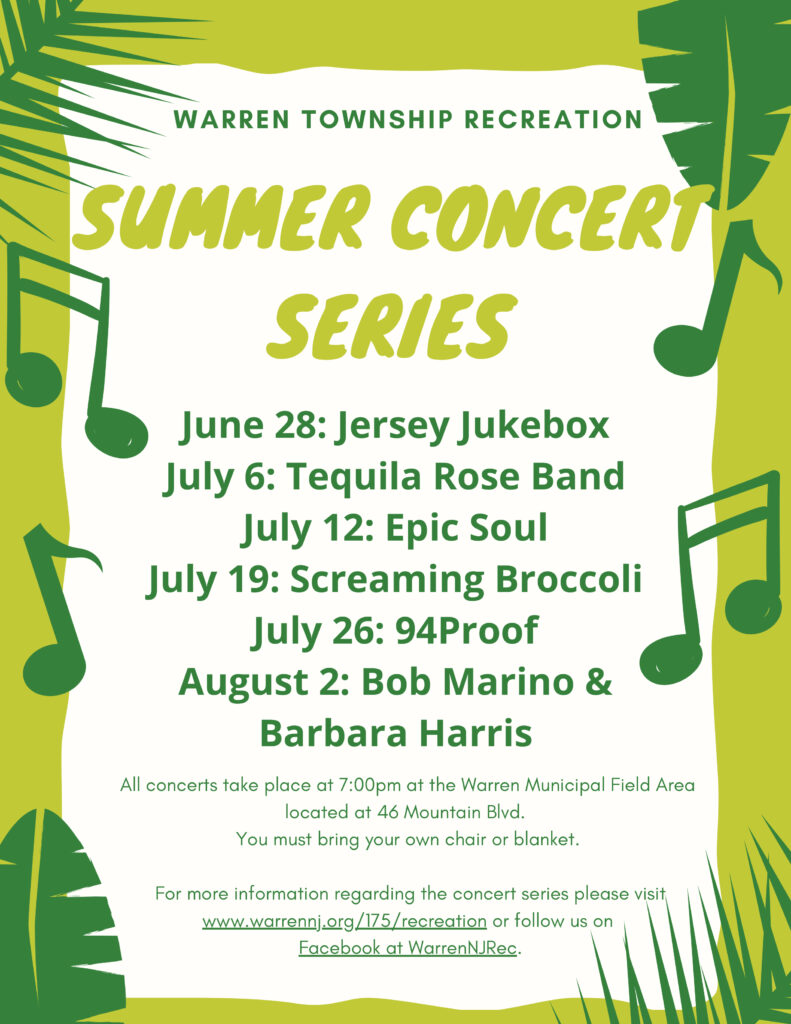 Summer Concert Series
All concerts take place at 7:00 p.m. at the Warren Municipal Field Area located at 46 Mountain Blvd. You must bring your own chair or blanket. For more information regarding the concert series please visit warrennj.org/175/recreation or follow us on Facebook at WarrenNJRec.
Jersey Jukebox (June 28)
Jersey Jukebox is dedicated to continuing and performing the music that made us all smile and remember those special times of the past. The Jersey Jukebox is comprised of Rick Davis, Raymond Block, Pat Moschetto, Sal Contrino, Eric Hattenberg & our newest member
Kristin Contrino. They have performed locally and internationally. Their music is the music of good times, memories, and dance and their repertoire represents something for everyone.
Tequila Rose (July 6)
Tequila Rose is a professional group of versatile musicians playing the best of today's modern country music along with a mixture of classic rock and old school country. The band features two lead guitars and three part harmonies with all four of the band members sharing the lead vocals over the past decade of shows throughout the Northeast. Always a high energy show to please all age groups and music lovers.
EpicSoul (July 12)
Unlike large agency bands that switch out musicians week after week, EPICSOUL has a core group of dedicated musicians who perform over 60 dates a year together. This dedicated group, featuring members of the Chops Horns, offers a truly unique and sophisticated entertainment experience. From soul-stirring Motown medleys, to today's R&B, pop, rock and contemporary hits, EPICSOUL rolls from one song to another keeping everyone dancing all night long. With decades of professional experience as recording artists, composers and arrangers, some of our musicians have recorded and/or toured with international and domestic recording artists including Alicia Keys, Gloria Gaynor, Mariah Carey, Chaka Kahn, Jennifer Lopez, Mark Anthony and South Side Johnny and the Asbury Jukes.
Screaming Broccoli (July 19)
For over 20 years, NYC-based quartet Screaming Broccolli has been bringing their unique brand of fun throughout the east coast. Readers of SiLive.com named them "The Best Cover Band" for 2014 and 2016.Even though the band started during the height of the grunge era,
their incredible catalog of songs stretches from classic rock, to 80's and 90's hits and the biggest and best current Top 40 jams.
94Proof (July 26)
94 Proof Band is a New Jersey Rock N' Roll Band from Warren, NJ. 94Proof covers bands from The Rolling Stones, The Band, Chicago, The Grateful Dead to Bruce Springsteen and everything in between. Our core performers make up the band's vocal, rhythm, horn, and percussion sections. While we perform the songs as you know them, our fans enjoy our "original blend" of arrangements and solos.
Bob Marino & Barbara Harris (August 2)
Come out and tune in to songs from the 40's through the 70's that were likely playing on jukeboxes in malt shops, candy stores and in cars cruising the boulevard. Bob and Barbara will perform songs made famous by artists like Nat King Cole, Patti Page, Frank Sinatra, Ella Fitzgerald, Carpenters, Elvis Presley, Ray Charles, Jerry Vale, Connie Francis, Dean Martin, Stevie Wonder and much more. Barbara will also perform her hit song "A Lover's Concerto" (How Gentle is the Rain) recorded by the Toys in 1965. Barbara was the lead singer of the Toys and has appeared on TJ Lubinsky's PBS Special, "Rock, Rhythm and Doo Wop".