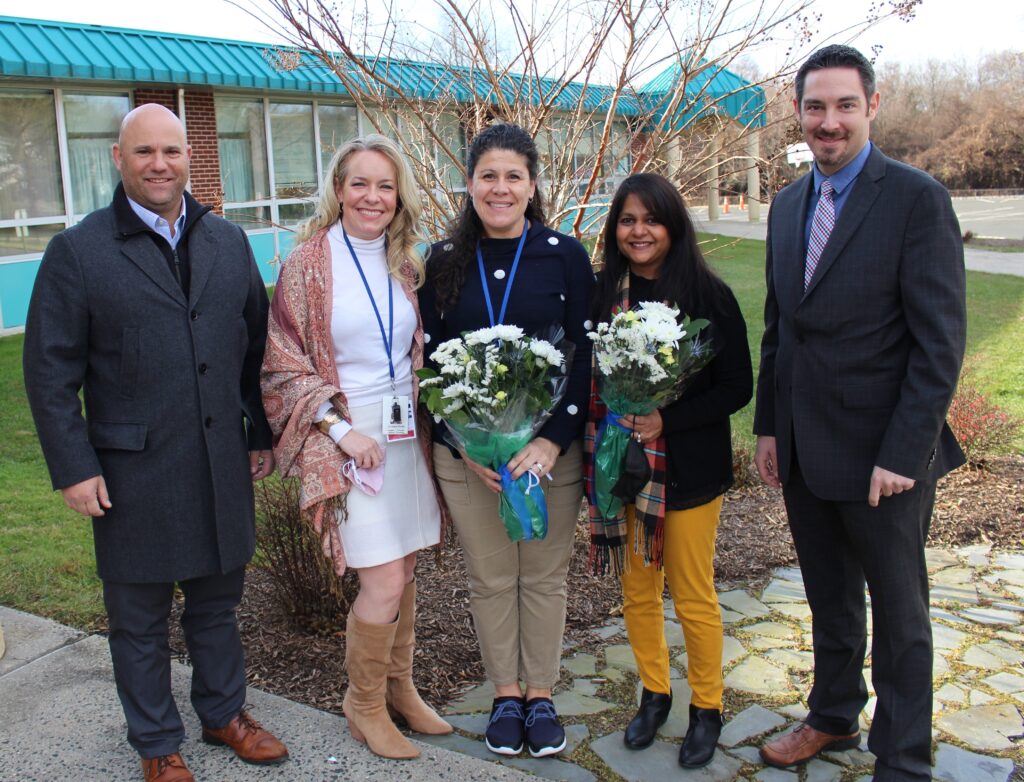 School's Staff Receive High Honors
Warren Public Schools
Five teachers and five Educational Services Professionals from Warren Township Schools have been named the recipients of the Governor's Educator of the Year awards.
On December 7, 2021, Board of Education President, Marc Franco, joined Superintendent, Dr. Matthew Mingle, to visit each school for a surprise visit to notify each of the recipients of their award with a special congratulatory bouquet of flowers, pictures, rounds of applause, and well wishes.
The New Jersey Teacher of the Year Program and the Governor's Teacher/Educational Services Professionals Recognition Program has been integrated into the Governor's Educator of the Year Award. This updated program highlights educational innovation, student achievement, the rewards of teaching, and important services outside the classroom environment that lead to student success.
Each award recipient was nominated for his/her commitment to providing excellent education and cultivating an environment where each student is able to achieve his/her fullest potential. The district is grateful for the participation from the Warren community, students, and the many wonderful Warren staff who nominated their peers.
Superintendent Matthew Mingle said, "Warren Township Schools benefit from the dedication of talented educators day in and day out. It is wonderful to take a moment to celebrate some of our shining stars!"
Warren Township School's Teachers are shining brighter every day!
Classroom Teacher Recipients: Angelo L. Tomaso — Sanjita Livingston, Special Education Teacher; Central — Lyndsay Carroll, ASAP Math Teacher; Mt. Horeb — PJ Jones, Grade 4 Teacher; Woodland — Kristina Traynor, Grade 1 Teacher; and Middle — Alexis Slack, ASAP English Language Arts Teacher
Educational Services Professional Recipients:Angelo L. Tomaso — Melissa Fedosh, Paraprofessional; Central — Nancy Lauber, Paraprofessional; Mt. Horeb — Michelle Zgombic, Technology Teacher/Coach; Woodland — Shari DeCarli, Paraprofessional; Middle — Valerie Nelson, Paraprofessional
Photos by Warren Township Public Schools