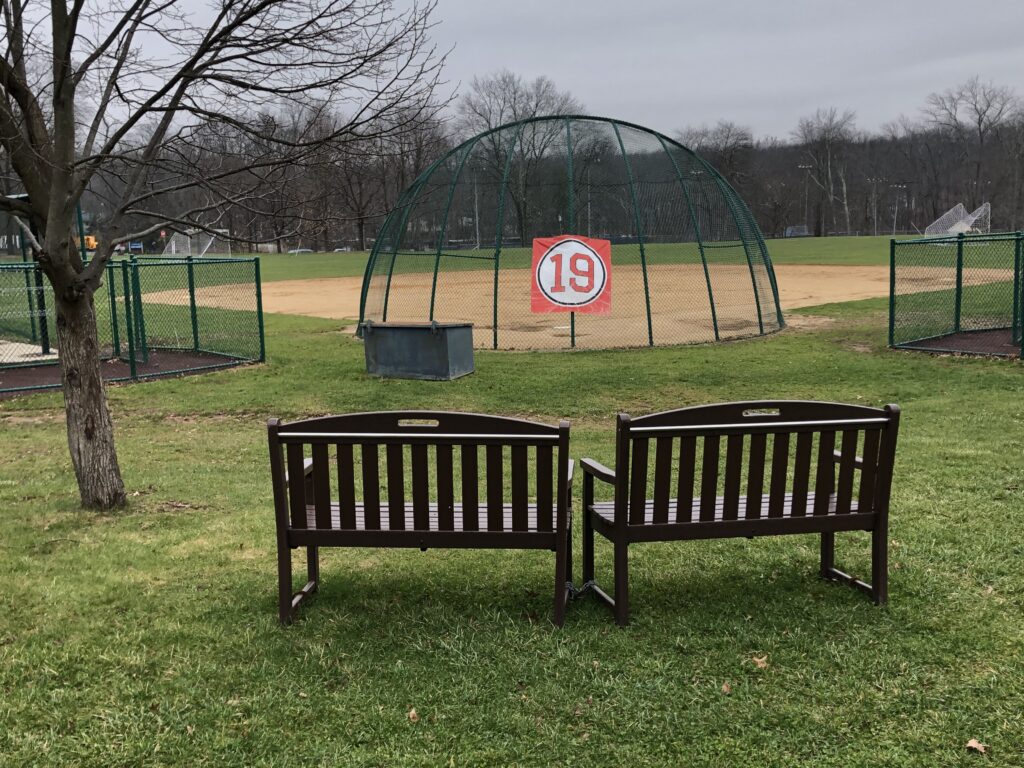 Trex® Benches Honoring Annie Young
Submitted by Berkeley Heights Environmental Commission
During the fourth quarter of 2020, in honor of Annie Young, two high-quality Trex® outdoor benches were installed behind the backstop at the Columbia Middle School softball field. The benches face Annie's softball jersey number, #19, which is draped across the backstop.
Annie, an excellent athlete who died in May 2019, was only eight years old and a third grader at Thomas P. Hughes Elementary School when she suffered a sudden brain hemorrhage. In addition to playing softball on the 8U "Heights Heat" travel softball team, she also played basketball and was a dancer at Pure Movement Dance Center. Annie's softball coach, Bret Sayre, thought it would be a nice tribute to Annie if the Trex® benches honoring her memory were placed next to Annie's favorite softball field, the one on which she played a number of her softball games.
The groups earning the benches to honor Annie's memory were Start with Hello – Sandy Hook Promise, and Cub Scout Pack 268 in partnership with the Township of Berkeley Heights' municipal staff. Each of these groups separately bore responsibility for collecting thin film plastics at the Trex® bin located at the Police Station. Each group earned their bench as a result of collecting, weighing, and delivering 500 pounds or more of thin film plastics to a local Trex® partner store. The plastics, combined with the store's own thin film plastics, were ultimately shipped to the Trex Company, where they were used in the manufacture of Trex® benches.
"This was truly a team effort. Everyone who dropped off their thin film plastics in the Trex® bin at the Police Station helped these two groups to earn their benches," said Kim Diamond, Chair of the Berkeley Heights Environmental Commission's (BHEC's) Trex® Thin Film Plastics Recycling Program. "As a result of residents' collective recycling efforts, the Berkeley Heights community not only helped the environment by up-cycling and re-using thin film plastics, but effectively made possible this lasting tribute to Annie."
The Environmental Commission gratefully acknowledges Columbia Middle School Principal Frank G. Geiger, Berkeley Heights Board of Education School Business Administrator Donna Felezzola, Berkeley Heights Board of Education Supervisor of Buildings & Grounds Anthony Amiano, Columbia Middle Schools Softball Coach Gary Healey, and Thomas P. Hughes Elementary School Principal Jessica Nardi for their collective assistance in making the benches' installation a reality.
For more information about the Environmental Commission and thin film plastics collection in Berkeley Heights, visit the Environmental Commission's website at berkeleyheights.gov/379/Recycling-Thin-Film-Plastics.