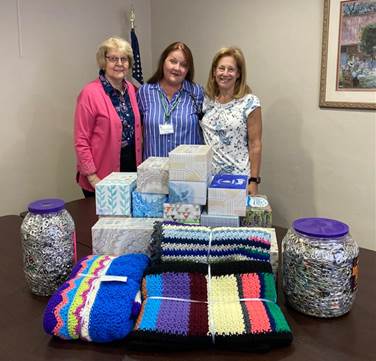 Thursday Morning Club
In addition to supporting the Madison Community House, members of the Thursday Morning Club are involved in a number of community service projects.
During the past club year, the Health and Wellness Committee coordinated member donations of 130 pair of eyeglasses, and 47 eyeglass cases for Lions Clubs International, Lions Recycle for Sight; and 17 pounds of aluminum can tabs for Shriners Hospital for Children. As one and done projects, members knitted or crocheted 65 lap blankets, and donated 88 boxes of tissues, both of which were distributed to local care facilities
Organized in 1896, the club is a member of both the New Jersey State and General Federation of Women's Clubs. The club offers programs and services to support the community, and its Community House provides a home for a five-day Preschool and Before and after Child Care Program as well as a number of sports, recreation, and civic groups.
If you would like to make new friends, enjoy programs and activities, and serve your community, consider joining the Thursday Morning Club. For more information call the Community House at (973) 377-0244 or visit TMCMCH.org
Courtesy photo