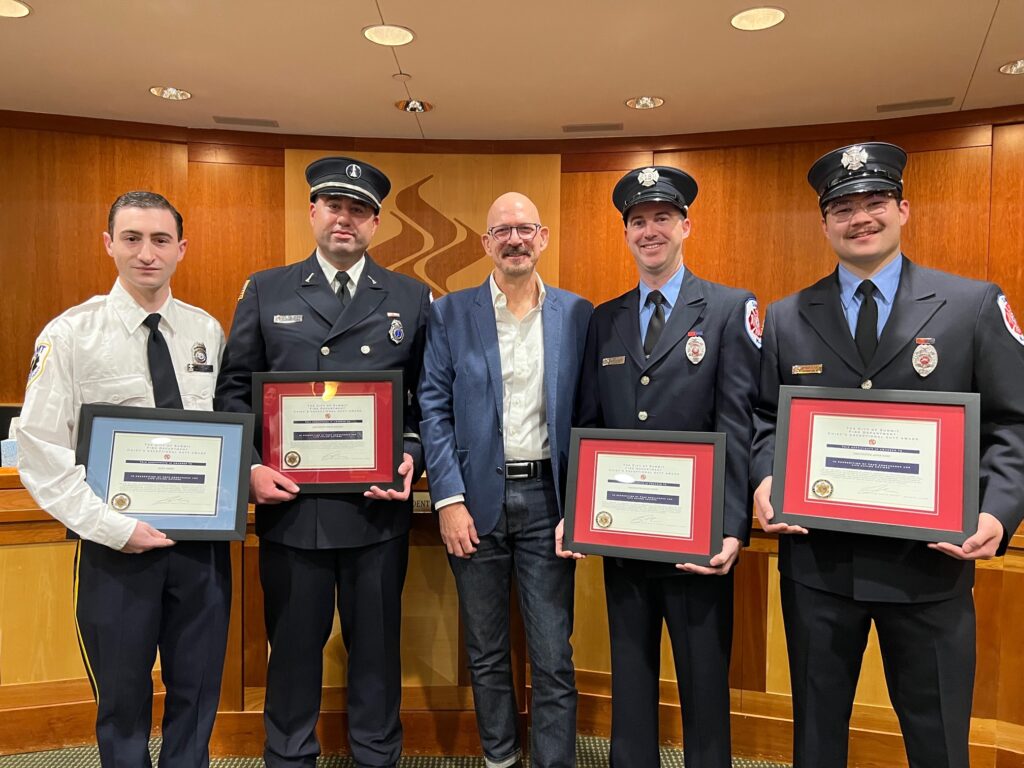 Life-Saving CPR Efforts Recognized
City of Summit
Mayor Nora Radest and Common Council recognized members of the Summit Police Department, Summit Fire Department, and Summit Volunteer First Aid Squad with an award for exceptional duty for their successful efforts in administering life-saving CPR to a local resident in July 2022. The award was presented by Mayor Nora Radest and Fire Chief Eric Evers at the Tuesday, November 1, Common Council meeting.
On July 28, 2022, at approximately 1:08 p.m., police, fire and EMS responded to a report of a male in cardiac arrest at a River Road office location. On arrival, crews began CPR and applied an AED to the patient, Millburn resident Jon Hetherington. Several shocks were administered to Mr. Hetherington throughout the incident. Crews continued CPR efforts for approximately 40 minutes, after which time Mr. Hetherington began to breathe on his own and regained a pulse. He was transported by the First Aid Squad to Morristown Hospital for further care.
Following a full recovery, Jon Hetherington and his wife Patty Hetherington attended the November 1 Common Council meeting to personally thank all first responders that were involved.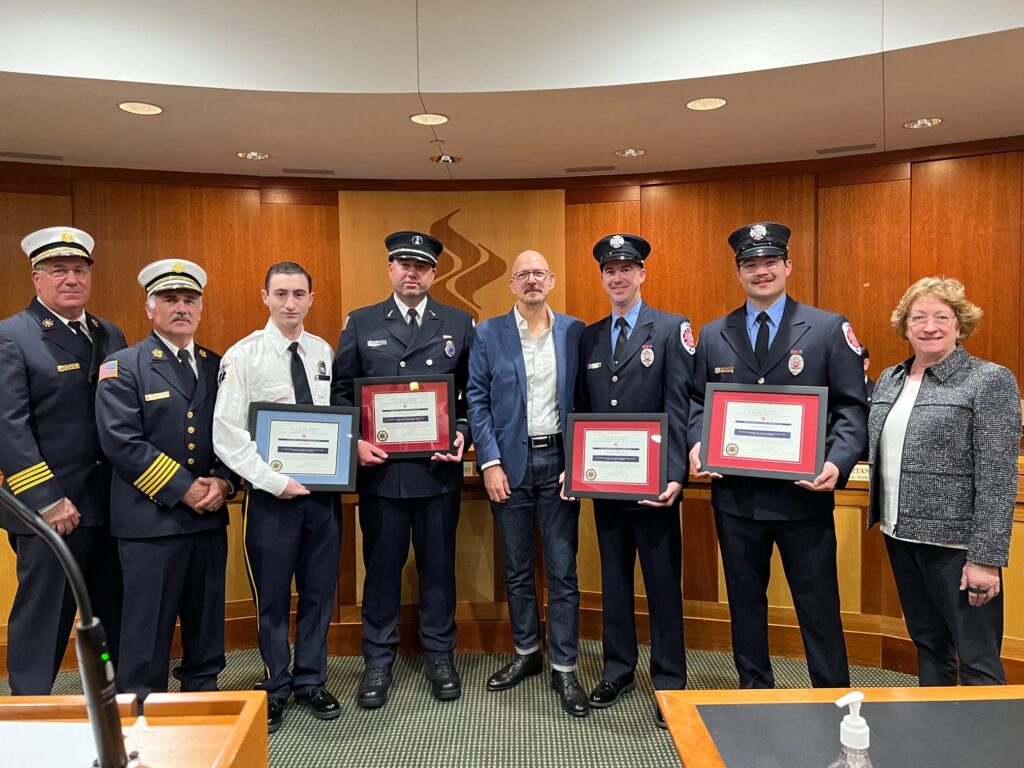 "The successful outcome of this incident is a truly outstanding example of Summit's first responders working together as a team to save the life of a community member," explains Mayor Radest. "We are thrilled to have Mr. Hetherington join us at the Common Council meeting this evening and to see firsthand how well he is doing."
The following individuals responded to the incident: Summit Fire Lieutenant Brian Harnois, Firefighter Adam Oare, and Firefighter Brian Tavis; Summit Police Officer Leonard Franchino and Officer Jeffrey Reinecke; and Summit Volunteer First Aid Squad members Anna Bowyer, Alex Cohen, and Will Zipf.
Radest continued, "We are so fortunate to live in a community with dedicated first responders who are highly trained. These individuals did not give up on Mr. Hetherington and their determination saved him. I am so proud and thankful for this heroic effort and their exceptional duty."
For more information on the Summit Police Department and Fire Department, please visit cityofsummit.org. 
Photos by City of Summit