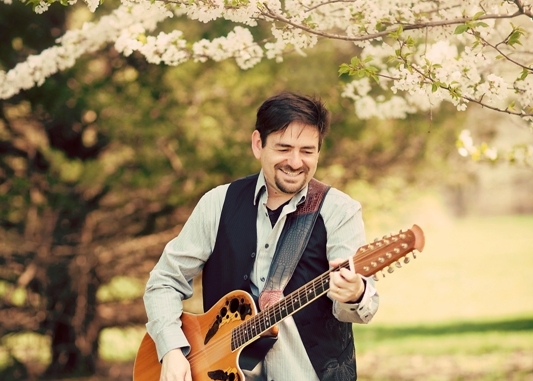 Summit Library June 2021
Much like last year, the Summit Free Public Library will be giving points to adults who read and log books, and for each X number of books they can get a ticket for the grand prize drawing. There will be a couple of gift certificates as prizes. The theme of this year's Summer Reading Program is Tails and Tales!
In addition, there will be a 'tiger hunt' of sorts. There will be a stuffed tiger who will be positioned in various places around Summit. Staff will take photos and there will be a weekly contest of having people identify where the photo was taken. Every correct answer is good for A ticket in the prize drawing at the end of the summer. Note that this is a separate prize from the reading challenge prize. There will also be several "animal themed" programs and craft projects for adults.
Yosi Plays on the Village Green—Kicking off our Summer Reading Program for Kids!
Popular children's Yosi plays on Summit's Village Green on Sunday, June 20th from 2-3 p.m. In keeping with the Tails and Tales theme of this year's summer reading program, Yosi will play some animal-themed songs. Kids and their parents can wiggle like a worm in a "Hole in The Ground" and act like "Six Little Monkeys." Get up and learn how to swim & spell at the "B-E-A-C-H!" and enjoy a bowlful of "Chicken Noodle Soup." Get on a chugging "Train Medley" and make "Friend's Around the World!" Registration is required. Go to the library's website: www.summitlibrary.org and click on the Events calendar to reserve a spot.
Adult Art Class: Get on the Ball!
On Monday, June 7th from 7-8:30 p.m., Teacher Rekha Musale presentsOff the Ball: A Human Figure Drawing Class. Learn to draw a human figure. Participants will learn to use lines, shapes, shading to complete your drawing. Drawings can be colored in with colored pencils, watercolor pencils, markers or watercolor paint. Materials you will need: Paper, pencil, foot ruler, eraser, optional color pencils, water colors, markers as per your choice. Registration required.
Great Decisions 2021: Balancing Energy Needs and our Fragile Planet
On Wednesday, June 9th at 7 p.m., our next Great Decisions program will tackle the issue of climate change as we present Struggles over the Melting Ice. Former U.S. President Donald Trump left many scratching their heads when it was rumored that he was looking to purchase the large island nation of Greenland from Denmark. While any potential deal seems highly unlikely, the event shows the changing opinion within the U.S. government toward engagement with the Arctic region. Because of climate change, large sheets of arctic ice are melting, exposing vast stores of natural gas and oil. With Russia and China already miles ahead with their Arctic strategies, can the U.S. catch up? This month's moderator is Dr. Marian Glenn.
Supercharge Your Career Search
On Thursday, June 10th at 7 p.m., career counselor and life coach, Dr. Colleen Georges presents Showcase Your Strengths: Rock your Resume & Cover Letter, Super-charge Your LinkedIn profile, and Nail Your Next Interview. Talking yourself up doesn't always come easy. We are often better at nitpicking what we're not great at than thinking about what we do well. So, when it comes to writing resumes, cover letters, social media profiles, and going on interviews, it can be pretty tough. You have so many positive assets to offer your future employer. Dr. George's will get you confident and prepared to talk about it! In this workshop she'll talk about how we can assess our strengths, skills, successes, and savvy, and effectively showcase these on paper, online, and in person.
Avoid Getting Scammed!
On Monday, June 14th at 7 p.m., attend Don't Get Scammed. Melanie Hazim, Outreach Director for the Division of Consumer Affairs will present this timely seminar. From the IRS phone scam to lottery and sweepstakes scams, to the so-called grandparent scam, it appears that imposter frauds and other criminal scams are more active than ever – and are preying on potential victims in New Jersey through phone calls, emails, and other means.
Book Chat!
Join librarian Debbie Abrams for her next Book Talk with Debbie on Thursday, June 17th at 11 a.m. Debbie will provide a guide to the most buzz-worthy books each month. Come away with a new title for your list. Bring titles – to recommend or pan – to share with the group. Registration required.
Take the A-Train!
On Thursday, June 17th learn the Secrets of the New York City Subways at 7 p.m. Where can one find the most ornate station in the entire New York City subway system? Where do sculptures of man-eating alligators emerge from beneath manhole covers? Which stations have works of art designed by Roy Lichtenstein, Heins & LaFarge, Squire Vickers, Herbert Dole, and Jay Van Everen? Learn about these and other secrets of the NYC subways in this fun and informative presentation, illustrated by fascinating color and vintage sepia images dating from the 1880s through the present. Presented by Oscar Israelowitz, a licensed NYC tour guide. Sponsored by the Friends of the Summit Free Public Library. Registration required.
Do you do Bitcoin?
On Tuesday, June 22 at 7 p.m., Lindsley Medlin will present Getting Started with Cryptocurrency. What's all the buzz about Bitcoin? Surely and imaginary currency cannot be worth anything, right? Let's dig into that! Learn about why and how cryptocurrencies got started, what that might mean, and how to get started. Registration required.
Let's Get Crafty with Marge!
Crafting pro Marge Barkan returns with a new craft project—this month she'll be showing participants how to make woven coasters in the latest in our series, Make Your Own: Woven Coasters on Wednesday, June 23rd at 11 a.m. This will be a Facebook Premiere video, which allows you to return to the video to review your progress and for additional guidance. Marge will also let you know where you can find materials to purchase. The first 12 registrants will receive a kit with all the materials you'll need to make this craft. Registration required.
Trivia Fun with Mary
Our next Trivia Night will take place on Friday, June 25th at 7 p.m. Join quizmaster Mary for some G-rated fun. Invite your neighbors to play along (from the comfort of their own homes). Registration required.
Networking via Zoom!
Whether you're a small business owner, an entrepreneur, or somebody looking to start a new business and bounce your ideas off of a group of like-minded folks, join our Small Business and Entrepreneur Networking group on Tuesday, June 29th at 9:30 a.m. Registration required.
Interested in signing up for any of these programs? You can visit our website at summitlibrary.org and go to the Events tab at the top of the homepage or call the library at 908-273-0350, option 3 to register directly with one of our librarians. Note, most of the library's programs are currently being delivered via Zoom. You'll receive a Zoom link in your email, typically the day before and the day of the start of the program.