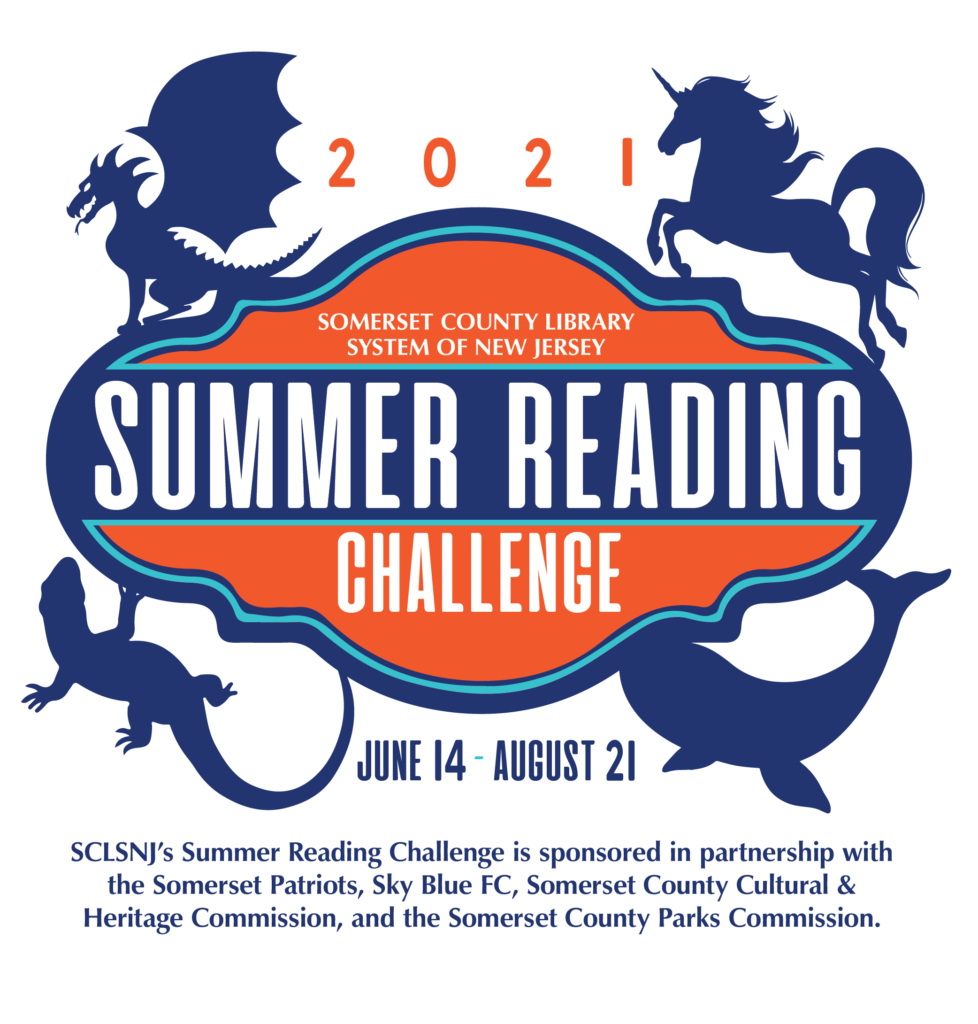 SCLSNJ's Summer Reading Challenge
Get swept away into the magical world of myths, legends, fables, and fairy tales. Discover fantastical tales about tails through the pages of your favorite storybook or through a virtual Library program experience. Take the Somerset County Library System of New Jersey's (SCLSNJ) Summer Reading Challenge from June 14 – August 21 and join in on the adventure.
"This summer, since physical travel is still being discouraged, we are especially excited to explore tales about creatures with tails – whether real or imaginary," said Carolann DeMatos, director of marketing and public relations. "We encourage you to journey into the deep seas to meet a mermaid; soar into the skies through your imagination and meet a fearsome, or friendly, dragon; meet lizards great and small, or perhaps even a whale or two, while exploring reality through our nonfiction collections; or read a classical tale spun by Dickens, or Austen, or Wells, or Stevenson."
Continued DeMatos, "The Library is an always open gateway into the new and exciting. Our staff are ready, willing, masked up, and delighted to help you continue your literary journey throughout the summer months."
Take the Challenge: SCLSNJ.org/summerreading.
Reading is Fun and Fundamental 
According to the 2020 survey results of Measure of Academic Progress (MAPS) testing, third to fifth graders lost 20 percent of school year gains in reading over the summer months. SCLSNJ's Summer Reading Challenge aims to help maintain reading proficiency over the summer through programs, reading recommendations, and more.
"Educators have long known the importance of regular reading in sustaining literacy through the summer months," said Meredith Hoyer, youth services supervisor. "Library summer reading programs have traditionally supported parents and teachers in mitigating these losses. This summer, our opportunities to make a difference for younger readers have become even more critical as the 2020-2021 school year has created unprecedented challenges for parents and children."
Hoyer concluded, "Now more than ever, igniting a love of pleasure reading can provide young people with a sense of adventure and escape that is missing from daily life in 2021. Through literature, children can travel to distant lands, laugh, cry, discover, and explore without ever leaving their home."
Help your child discover their next adventure through the Library System's e-book collection: somerset.overdrive.com. 
Take the Summer Reading Challenge
"It's that special time of year again, where SCLSNJ celebrates reading," said Christine Jansen, manager of youth services programming and collaborations, public services. "We created the Summer Reading Challenge to help prevent the summer slide. This year we have partnered with local and state organizations to help our community's youth and teens connect, explore, share, and discover literacy and learning through amazing outdoor and virtual programs, and exciting reading challenges."
Drawing tickets and prizes will be awarded at different reading milestones throughout the summer.
● At 10 days participants will receive one virtual drawing ticket;
● At 20 days participants will receive two virtual drawing tickets;
● At 30 days participants will receive three virtual drawing tickets;
● At 40 days participants will receive a reading recognition reward and one virtual drawing ticket;
● At 50 days participants will receive five virtual drawing tickets;
● At 60 days participants will receive a free book, a virtual drawing ticket, and an automatic entry for the golden ticket prize.
SCLSNJ's Summer Reading Challenge is sponsored by the Somerset Patriots, NJ/NY Gotham FC, Somerset County Cultural & Heritage Commission, and the Somerset County Parks Commission.
Adults and Children Alike Should Celebrate the Joy of Reading 
According to recent data from the Pew Research Center, approximately 27 percent of adults report not reading one single book per year. In 2021, adults can challenge themselves to model good early literacy practices and celebrate the joy of reading by taking SCLSNJ's Summer Reading Challenge.
"The summer months may offer a time for adults to do the kind of reading they don't have time to do during the rest of the year," said Cindy Mangel, manager of branch services: adult learning and community engagement, public services. "Whether you wish to challenge yourself by selecting new genres, relax with a summer beach read, or do some traveling by enjoying stories of world wide adventure, celebrate the joy of reading with SCLSNJ."
She continued, "The Library System has selections that will meet your reading or listening goals. For those who wish to set personal reading goals and track your success, join the Summer Reading Challenge. Readers of all ages are encouraged to record their reading minutes; why should children, tweens, and teens have all the fun?"
Celebrate the joy of reading, model positive literacy skills for the younger generation, and challenge yourself to read more with SCLSNJ. Explore SCLSNJ's collection today: catalog.sclsnj.org.