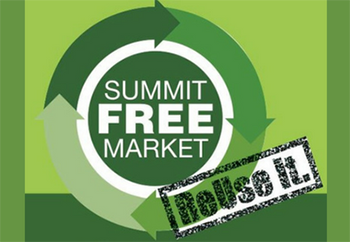 First Summit Free Market Event of 2021
Submitted by Amy Cairns
The first Summit Free Market event of 2021 will be held on Saturday, May 8 from 8 a.m. to 3 p.m. at the Municipal Transfer Station located at 40 New Providence Avenue.
Due to COVID-19 restrictions, item drop-off and shopping will be by appointment only. Summit residents will be able to sign up for a 30-minute time slot beginning at 12 p.m. on Monday, May 3 on the City of Summit website. Masks will be required and temperature taken for everyone entering the building.
Weather permitting, ongoing Summit Free Market events will be held on the second Saturday of each month. Sign ups will take place on the city website the Monday prior to each event, beginning at 12 p.m.
The Summit Free Market Committee is a student-run initiative where residents are able to bring reusable, yard sale quality items to share, and take whatever they may want or need at no charge. Since its inception in 2008, the Summit Free Market has served more than 5,000 residents and has kept over 165 tons of reusable material from the waste stream.
Citizens are asked to follow these guidelines from the Summit Free Market Committee when donating items: 
Please bring only yard sale quality items (materials of value that could have been sold instead of donated) in boxes or bags containing similar items that have been sorted in advance. No unsorted boxes or garbage bags filled with random material will be accepted. If you bring an unsorted box or garbage bag filled with a mix of acceptable and non-acceptable items for donation, the entire box will be rejected. 
No clothing, shoes, plush toys or dolls, or upholstered furniture will be accepted. We suggest that you use the Virtual Summit Free Market group on Facebook to donate those items. 
Electronics must be in working order and used within the past year to ensure viability. No tube television sets or boxes of cords will be accepted. Outdated technology should be dropped off in the electronics recycling area instead. 
Please donate clean items. Remove dirt and grease from material that has been stored outdoors or used in the kitchen. 
If something is broken or missing pieces, even if you think it could be fixed, do not donate it. 
Visit the Summit Free Market website for donation guidelines and more information.