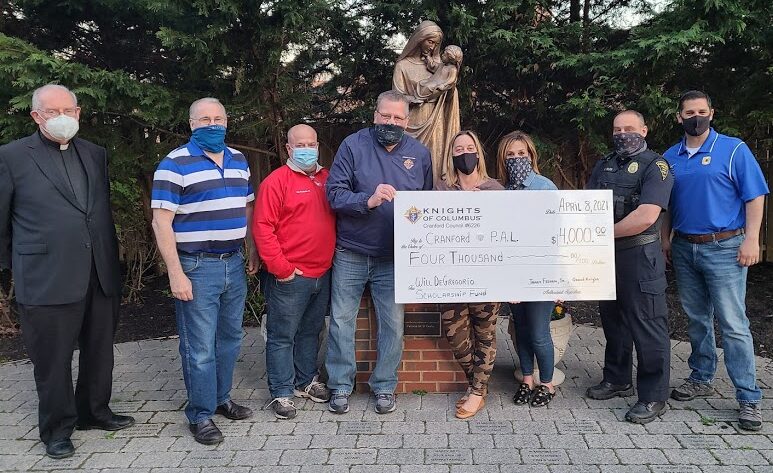 Corned Beef Dinner Fundraiser & Check Donation
Cranford Knights of Columbus
Due to COVID 19 restrictions, the Cranford Knights of Columbus Council #6226 could not hold its annual St. Patrick's Day Dinner Dance in 2020 and again this year in 2021. As an alternative, the Council decided to hold a Corned Beef Dinner fundraiser that was a tremendous success.
Brother Knights and their families cooked over 650 pounds of Corned Beef and prepared and sold 550 dinners. In addition, 110 dinners were donated to Cranford Family Care and 5 trays of leftover Corned Beef to St. Joseph's Social Service Center in Elizabeth. From the proceeds, the Council was able to raise $4,000 which was donated to the Cranford PAL's Will DeGregorio Scholarship Fund.
The Cranford Council would like to thank the Cranford community for their tremendous support of this worthy fundraiser.
The Cranford Knights of Columbus is a Catholic Fraternal Organization dedicated to our four core principles, Charity, Unity, Fraternity and Patriotism. The Cranford Council supports many charities and civic causes locally, state-wide, and nationally and is committed to be a viable part of our Community. For information about joining the Council, please contact our Deputy Grand Knight Jerry Conheeney at 908-416-3464 or visit the Council web site at cranfordknights.org.