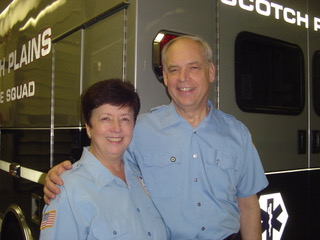 Serving Together to Save Lives 
Contributing Author Susan Baldani, a life member of the Scotch Plains Rescue Squad.
For more than 30 years, one of the ways lifelong residents Robert and Joanne Gurske have been actively contributing to their community is as members of the Scotch Plains Rescue Squad. Married for 46 years with two children, the two have always believed in the importance of helping others.
"I grew up on Mountain Avenue, and when I'd hear that siren, I'd run out to the curb to watch it go by," says Robert. "And I would say to myself, 'Someday I'm going to do that.' Not because I liked the lights and sirens, but because it was a chance to really do something good, something important, something to help people. That's been a theme my whole life. That's who I am."
When Robert joined the rescue squad in 1989, Joanne had no intention of joining along with him. "It was so far out of my comfort zone," she says. "After Bob joined, he was there all the time, so I used to go down and keep him company. What changed for me was going on a call.
"We went to a house and there was a woman having what appeared to be a heart attack. She had this terrible pained look on her face, but when she saw me, all of a sudden that look went away. She said, 'I know you from somewhere.' I then recognized her from church, and just for that second, the fear left her face. And I thought to myself, 'If I can do something like that to help somebody, that would be good.'"
So, in 1990, Joanne became a member of the Scotch Plains Rescue Squad. Since then, she has held many officer positions. She served as a first and second lieutenant, and was the captain during 9-11. She has also been keeping the records for the squad as secretary for the last 13 years.
Robert is the chaplain of the squad, and has been either a first or second lieutenant for many years. He is currently the deputy chief (formerly known as lieutenant). "I like being in that first officer kind of role," he says. "I don't need to be the leader. I'm a good worker bee, and you really need some good worker bees to get the job done."
Before retiring, Joanne was a public school elementary vocal music teacher for 38 years in South Plainfield and for nine years at St. Bartholomew's in Scotch Plains. She is also the conductor of the adult choir at St. Bart's.
Robert is also heavily involved in the church. After being the director of operations and communications at St. Bart's for many years, he was ordained in 2002 as a permanent deacon in the Roman Catholic Church.
For him, being on the Scotch Plains Rescue Squad means being part of a team. "Nobody does it alone," he says. "We work together; I like that camaraderie. Everybody has a strength. Some people are good at pediatric emergencies, others are better at psychiatric emergencies, so you never have to be everything. You just have to be the best that you can be."
"Bob and I have very small families, and being on the squad is like having a second family," says Joanne. "I feel like we have support and can also have fun with a lot of people on the squad."
"I would invite people to move beyond where they are now and to do more," says Robert. "You discover something in yourself when you become an EMT [Emergency Medical Technician.] You find out you have skills you never thought you had.
"You're part of the larger community and you're doing something that is intrinsically valuable. And everybody recognizes that. I think that there is a lot an individual gets out of being an EMT and being part of our wonderful team."
For information on volunteering for the Scotch Plains Rescue Squad or to obtain an application, go towww.scotchplainsrescuesquad.com, send an email to scotchplainsrescuesquad@gmail.com, or call 908-322-2103.