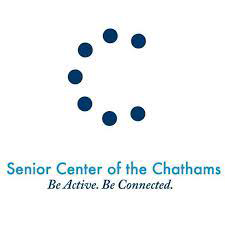 Senior Center of the Chathams June 2022
WATERCOLOR WORKSHOP: SUNFLOWERS
Thursday, June 2, 10:00 AM-Noon.
Working from a photo reference or drawing, students will create a beautiful watercolor of sunflowers. Real flowers will be available for a greater challenge. The instructor, Philla Barkhorn, will discuss drawing flowers in perspective, color choices, and the use of thumbnail sketches to develop the compositions. A demonstration will include tips on painting leaves and the importance of size, shape, and color variety in depicting nature. Archival ink pens will be available for line work. No experience necessary. Materials provided to those who need them, or you may bring your own. Fee: $7 per person. Sign up required.
TURTLEBACK ZOO
Friday, June 3, 1:00 PM
The Turtle Back Zoo returns to the Senior Center. They will show how their keepers work with the animals to keep them mentally and physically healthy and explain how different types of enrichment and training contribute to the animals' wellbeing. The program will also feature some of their animal ambassadors "in person". Space is limited. Please sign up by May 27. Sponsored by Sonny's Indian Kitchen, of Chatham.
CAREGIVER SUPPORT GROUP
Wednesday, June 8, 10:30 AM
Moderated on Zoom and in person at the Center by Phyllis Flemming, former Executive Director of Victorian Garden Adult Day Center, and experienced dementia support group leader. New participants are always welcome. Contact Center for Zoom link.
SOLO VIOLIN PERFORMANCE
Friday, June 10, 11:00 AM
Audrey Lee, solo violinist, and State Champion of the NJ Music Teacher Association Young Musician Competition, will perform music by Bruch, Bach, and Mendelssohn. Free performance. Call Center to sign up.
ESTATE PLANNING 101, AN OVERVIEW OF BASIC ESTATE PLANNING DOCUMENTS
Tuesday, June 14, 11:00 AM
Robert Murray, Principal, The Murray Firm will present an overview of key documents, wills, types of trusts, and probate matters, among other related topics. A light lunch will follow the presentation. This program is made possible by a grant from the NJ State Bar Foundation. Sign up is required.
DINNER WITH FRIENDS
Wednesday, June 15, 5:00 PM
Enjoy a delicious meal at Sonny's Indian Kitchen in Chatham with friends. A three-course dinner will be served including your choice among 2 appetizers, 4 entrees, and 3 desserts, plus a hot or cold beverage. Food will be mild and not be spicy unless you request it. BYOB. Price is $35 per person (tax and gratuity included). Seats are limited. The deadline to sign up and submit payment is June 8.
FREE BLOOD PRESSURE SCREENING
Thursday, June 16, 11:45AM-12:30PM.
Get your blood pressure checked for free. No appointment necessary; walk-ins welcome. Sponsored by Chatham Hills Subacute
Care Center.
WATERCOLOR CLASS: ANIMAL PAINTING
Thursday, June 23, 10:00 AM-Noon.
Students will copy a painting of their choice in this workshop on loose watercolor animals. Students may draw or transfer the image onto their paper and then, working wet into wet, create a loose impressionistic piece. No experience necessary. Materials provided to those who need them, or you may bring your own. Instructor: Philla Barkhorn. Fee: $7 per person. Sign up by June 13.
MEN'S BASKETBALL
Mondays & Fridays, 10:00 AM
Fee for April-June 2022 is $20. Game is played in the Municipal Township Gym. Sign up is required.
LINE DANCING
Mondays, 1:30 PM
Want to get some exercise and have fun while you're doing it? In this line dancing class, you'll learn the steps through all kind of music, not just country music. Wear loose clothing and sneakers. Instructor: Linda Hyland.
OPEN BRIDGE PRACTICE
Mondays, Tuesdays, and Wednesdays, 10:00 AM-Noon.
These sessions are open to those who want to practice playing bridge. Bring some friends and we'll provide the cards. Call the day before to confirm play is on.
TABLE TENNIS
Five Days a Week, 12:30 PM.
Mondays, Wednesdays and Fridays are for experienced players; Tuesdays & Thursdays are for those new to the game or who'd like a lesson. If new or interested in instruction, please call the Center a few days ahead.
BEGINNER KNITTING CLASS
Mondays, 1:00PM.
Learn how to knit from Center staffer Carol Eisenhardt. All materials provided. Free class. Fee required as class progresses. Sign up
is required.
GENTLE EXERCISE CLASSES
Mondays, Tuesdays, Thursdays, 12:20 PM.
The Gentle Exercise classes sequence is Balance & Flex on Mondays and Thursdays, and Gentle Stretch on Tuesdays. Instructor: Donna Sue Dowton. Contact Center for fee information and to sign up.
INTERMEDIATE EXERCISE CLASSES
Tuesdays, Wednesdays, and Fridays, 9:00 AM.
The Intermediate Exercise Classes sequence is Balance & Flex on Tuesday, Mat Stretch & Alignment (new!) on Wednesday, and Low Impact Cardio on Friday. Instructor: Donna Sue Dowton. Contact Center for fee information and to sign up.
WRITING WORKSHOP
Tuesdays, 9:45 AM.
Grab a pen and paper and join us as the group explores the beauty of writing. This class is for new and returning students and will focus on all genres of writing, including personal memoirs, creative fiction, and poetry. Topics to be covered include character and narrative development, dialogue, plot, and much more. Each week, the group will read a short story or short memoir piece, share written homework assignments, have a lesson about writing techniques, and tackle a brief in-class prompt. No experience needed; just a willingness to learn, laugh, and write! Six-class session meets on Zoom. Instructor: Jenny Tananbaum. Fee is $30 for the session. Must register to participate.
DVD LECTURE SERIES
Tuesdays, 10:30AM.
Call the Center for current lecture topic. No sign up needed.
THE WOMEN'S CIRCLE
Tuesdays, 1:30 PM.
A social discussion group where women get to know one another by talking about issues and topics that interest them.
NIFTY KNITTERS
Wednesdays, 1:00 PM.
This active and social group gets together to create caps, blankets, and more for donation to local hospitals and veterans' organizations. They welcome all knitters interested in contributing to their cause.
FREE PAINT
Thursdays, 10:00 AM-Noon.
The art room is open for artists to work on their own creations using their own supplies.
MOVIES
Thursdays, 12:30 PM.
A movie is shown every Thursday. Call Center for titles. A foreign film is shown on a Friday once a month at 12:30 PM. Call Center for date and details. Sponsored by Spring Hills Livingston.
MEN'S DISCUSSION GROUP
Fridays, 10:30 AM
A friendly and relaxed gathering of men who engage in lively discussion about current events, have some laughs, and exchange useful information over coffee.