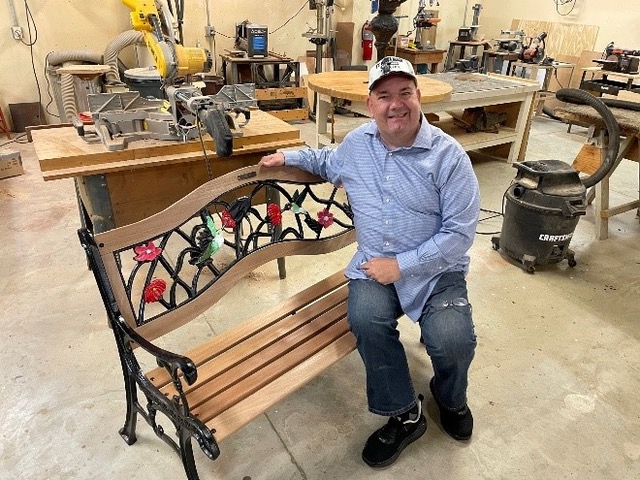 SAGE Workshop Renews 20-Year-Old Father's Day Gift
Ed Midgley of Berkeley Heights received a bench as a Father's Day gift from his children. After years of outdoor weathering and exposure to the temperatures, it had fallen apart in a distant corner of his garden. While spring cleaning this year, Ed decided to have it refurbished at SAGE Workshop in Summit and it is now a focal point of curbside appeal for his home. "Coming into the workshop in the basement" said Ed, "is like coming into Santa's Workshop with every workstation abuzz with elves working on gifts for the holiday." 
Simon Rosenstein, workshop volunteer, chose mahogany flooring to restore the bench. He measured, cut the wood planks to fit the originals, and painted the wrought iron back to its original glamour. "Repairing this bench for Ed was an honor," said Simon.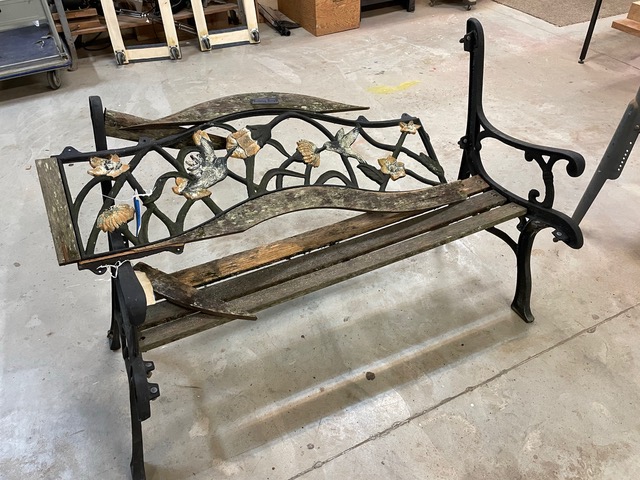 Since 1961, the SAGE Eldercare Workshop has offered the public fine-quality furniture repair. The volunteers will consider repairing any piece of furniture that can be carried into the workshop. The Workshop has a reputation throughout Union County and beyond for its fine reweaving of caned and rushed chairs. Our artisans are all highly trained volunteers. Proceeds from the Workshop benefit SAGE programming. Prices are reasonable and depend upon the condition of the chair or furniture item and the materials required in the restoration process.
The Workshop started out over fifty years ago as a place for older men who no longer had access to a home workshop. Dozens of women have worked in the historically male enclave. Most volunteers are former professionals including investment bankers, college professors, physicians, and scientists. Over the years, they have taught each other caning, rushing and a myriad of other techniques needed to fix the aging furniture brought to them for restoration.
The Workshop is in the basement of the SAGE building located at 290 Broad Street, Summit and is easily accessible. Shop hours are Mondays through Fridays, 8:30 a.m. – 11:30 a.m. For more information about the service, or to schedule an appointment to bring in furniture, call 908-598-5531.
About Sage Eldercare

SAGE Eldercare supports the independence, wellbeing and quality of life of older adults, their families and caregivers, through the provision of client-centered health, social and support services. Founded in 1954, SAGE is both the oldest and one of the few nonprofit eldercare agencies in the United States that offers a broad and comprehensive array of services under one roof that assist elderly, often frail, adults to remain independent in their own homes. SAGE Eldercare programs include: HomeCare; Meals-on-Wheels; Spend-A-Day Adult Day Health Center; InfoCare free information and referral service; Fall Prevention Initiative; Chore Service; Shopping Service; Bill Paying Service; PREP caregiver support group; and SHIP(State Health Insurance Assistance Program).  SAGE Eldercare serves over 5,000 older people and their families annually in Union, Essex Morris and Somerset counties. For more information, call 908.273.5550 or visit sageeldercare.org.