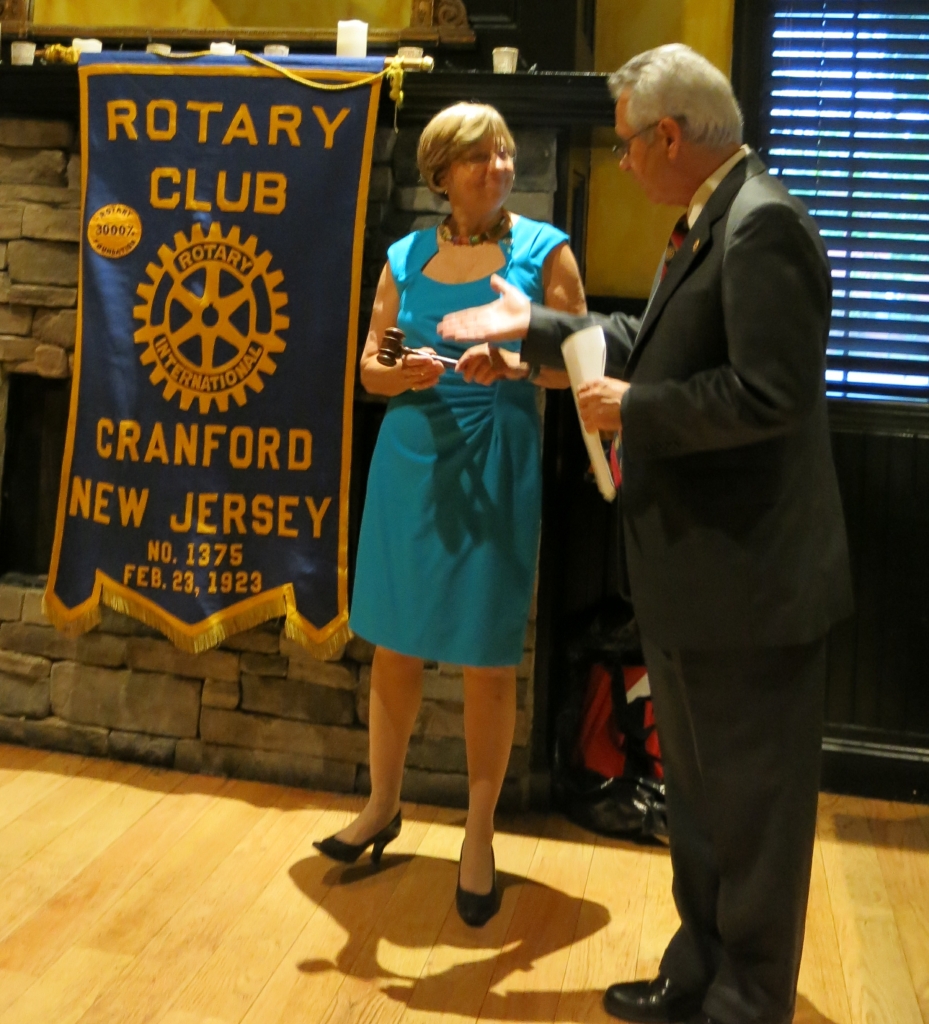 The Rotary Club of Cranford installed new leaders and recognized one of their members for outstanding service at a dinner on June 17.
Maureen Strazdon was installed as the 93nd President of the Rotary Club of Cranford by Incoming Rotary District 7510 Lieutenant Governor Bob Zeglarski. Her term will begin on July 1 and last for one year.  She succeeds Mickey O'Brien who served as President in 2014-15.
"I look forward to working with the other members of Cranford Rotary on projects that exemplify "Service Above Self", the Rotary motto.  We have several ideas outlined, especially in the area of education which has always been of special interest to the Club" she said.
Maureen has lived in Cranford for over 30 years, and has been a Rotarian since 2012, serving as President-elect last year. She has served on various boards and volunteered with several non-profits in New York while working there. Locally she is active in historical preservation, chairing the Cranford Township Historic Preservation Advisory Board since 2008.
Maureen retired in 2010 from AIG, a large financial services company in New York, having spent 25 years in various posts with the company, the most recent as Head of Marketing and Communications for AIG's non-US commercial insurance entities.  She holds an MBA from Drexel University, an MLS from Rutgers University, a BA from Douglass College, and the CLU designation from The American College.
Other Cranford Rotary officers for 2015-16 installed at the dinner are Joseph Starkey, President-Elect and Secretary; Gene Matics, Treasurer; and Michael O'Brien, Immediate Past-President. Board members are Bruce Bergen, Joseph Carney, David DelVecchio, Richard Feder, Barbara Ginsberg, Jamie Miller and Kathy Willis.
The Paul Harris Fellow award was presented to Walter Feligi for his outstanding service to the community.  His wife and daughter were on hand as he thanked the Club for the award.
The Rotary Club of Cranford was established in 1923 and provides diverse programs that support education, and other community services. Past beneficiaries of Rotary support include Cranford Schools and Scholarship Recipients, Cranford First Aid Squad, Cranford Family Care, Cranford Cerebral Palsy League, Cranford United Way, Cranford Historical Society, Cranford PAL and the Rotary International Foundation.
The Cranford Rotary Club meets Thursday morning at 7:45 am at the Cranford Community Center. Any business or professional, active or retired, is cordially invited to attend our meeting. For additional information, please contact Membership Chair Rich Feder at 908- 500-4318.  Highlights our recent activities can be found on our Facebook page, https://www.facebook.com/CranfordRotary.