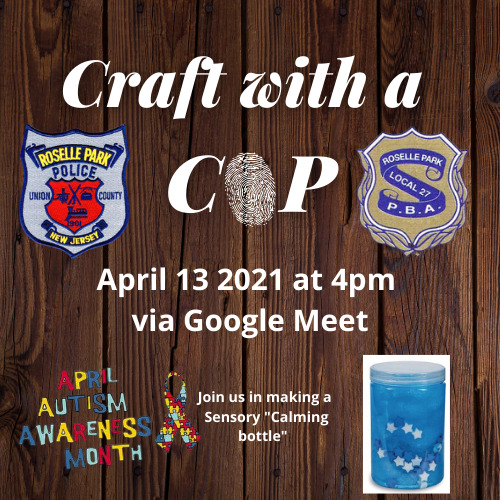 Crafting with a Cop
Roselle Park Police Department (RPPD)'s Community Oriented Policing (C.O.P.) strives to foster and build future collaborative partnerships with our community. C.O.P offers a wide range of services from aging assistance, L.E.A.D (formerly D.A.R.E), neighborhood watch, crime prevention and mental health support. COVID 19 continues to be a learning curve for C.O.P, however thanks to modern platforms, they have been able to re-imagine our outreach.
Most recently, C.O.P. announced the launch of a new virtual experience: Crafting with a Cop. This virtual based experience is geared towards children 5-12 years old. Crafting materials will be provided to our residents at no cost. To participate, register your child, collect a craft kit then sign in to google meet (on the corresponding date and time) and most importantly, get ready to have fun!
The next event is on April 13, 2021 at 4 p.m. Registration is limited and offered on a first come first serve basis. To register email: jdiaz.roselleparkpd@gmail.com with your child's name, age, address and whether you would like to pick up the craft kit from Police headquarters or have a contact-free drop off.