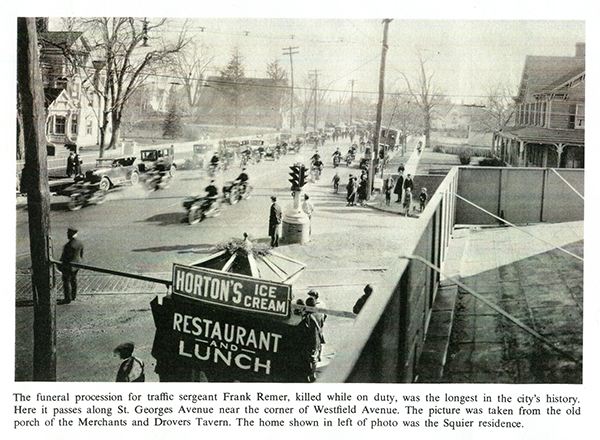 A Tribute to Rahway's Men in Blue Who Died in the Line of Duty
The Rahway Police Department was established on June 8, 1858 and in the department's 161 year history, nine officers have lost their lives while in the service of their city. In last month's issue of "Our Town," tribute was paid to four officers. This month's column will honor the other five by recounting the tragic stories that led to their deaths.
Part II
*Officer Harry J. Orr (d. December 4, 1922) was killed when he was thrown from his motorcycle after it crashed into a vehicle which was operating without required rear lights.
It was a few minutes before 11:00 a.m. when Officer Orr, who was observing traffic while parked on his motorcycle on the side of St. Georges Avenue, spotted a truck turning onto the north bound lane of St. Georges from Route 27. The truck was hauling a small trailer which the officer noticed was not equipped with proper rear safety lights. After waiting for a number of automobiles to pass, Officer Orr kick started his machine and sped after the truck. The vehicle had gotten as far as Sycamore Street when Orr's racing motorcycle slammed into the rear of the trailer. It was alleged that the truck was slowing, but because there were no rear lights on the trailer, Orr had no warning and was unable to stop. Grievously injured, Orr was rushed to Rahway Hospital where he died shortly after twelve noon. Officer Orr was survived by a wife and three young sons. He was thirty-six years old.
* Sergeant Frank Remer (d. April 12, 1926) was killed on his motorcycle when he was cut off by a delivery truck that was attempting to make a left turn from St. Georges Avenue onto Sycamore Street. The accident occurred only yards from where Officer Orr was killed four years earlier.
Coming from Woodbridge on Route 27, a delivery truck blew a tire as it turned onto St. Georges Avenue heading north. The driver, realizing he would have to get off the main road to make repairs, drove a few blocks looking for a quiet side street. When he came to Sycamore Street, he initiated a quick left turn. Sgt. Remer, who was riding behind the truck, was caught unaware and crashed into the side of the vehicle. Remer never regained consciousness after the collision and died three hours later at Rahway Hospital.  Sgt. Remer had a wife and one daughter. He was thirty-seven.
(Note: By the late 1920s eleven states made brake lights a requirement on automobiles. Flashing turn signals were not introduced until 1939).
*  Special Police Officer Raymond Michel (d. April 30, 1952) died of a heart attack while running up the long flight of steps at the Pennsylvania Railroad Station to arrest a disorderly person.
It was 12:34 a.m. when police headquarters received a call from railroad station personnel requesting help to remove a drunken and disorderly person who was causing trouble on the passenger platform. Michel and one other officer were dispatched to the scene. After rushing up the long flight, Michel reached the platform and suddenly collapsed. He was taken to Rahway Hospital where he was pronounced dead on arrival.
Special Officer Michel served on the police force when not at his regular job at Merck and Co.  The forty year old had been a special officer for fifteen years. He was survived by a wife and two daughters.
*  Patrolman Charles Bernoskie (d. November 23, 1958) was shot and killed in a gun battle with two burglars he surprised as they were leaving the Miller Pontiac-Cadillac Showroom at the corner of St. Georges Avenue and Milton Avenue.
At 11:35 p.m., Patrolman Bernoskie, while making a routine check of the business establishments along his beat, encountered two young men who were walking down the service entrance driveway of the auto dealership. Tragically, and without any provocation or warning, the two men open fired on the officer hitting him four times. Bernoskie, who was able to fire all six rounds in his revolver, wounded both thugs who ran off toward Pierpont Street. The critically wounded officer staggered to a residence on Milton Avenue where he collapsed inside the home. The frightened homeowner called the police, but it was too late to save the officer. Bernoskie died in Rahway Hospital fifteen minutes after the shooting. He was survived by his wife and six children. Officer Bernoskie was thirty.
The two suspects remained unknown for over forty years until one finally came forward and confessed in 2000. It has long been believed by many that the second suspect was Robert Zarinsky, an infamous convicted murderer and serial killer who over a period of sixteen years (1958-1974) was either sentenced, indicted, or was a prime suspect in over seven murders.
*  Patrolman John J. Burns (d. January 8, 1971) was killed by a Penn Central Railroad train while chasing a youth he suspected was fleeing from a drug bust.
As he was walking his beat on Broad Street along the railroad elevation, Officer Burns heard reports over his police radio that fellow officers were about to make a drug bust on the other side of the elevation on Vail Place. Shortly after hearing the report, Burns spotted a lone youth hurrying up the steps that led to the passenger platform. Thinking he might be one of the narcotics suspects, Burns chased after him. Once on the platform, the youth jumped onto the tracks and headed east with Burns following in hot pursuit. The officer never heard nor saw the east bound express that hit him from behind, killing him instantly. Fellow officers, who were unaware that Burns had gotten involved in the chase, found his body on the Poplar Street overpass.
Officer Burns was twenty-seven years old and had been on the force for only six months. He was survived by his wife and two daughters.
Submitted by Al Shipley, City Historian and Rahway Library Research Consultant