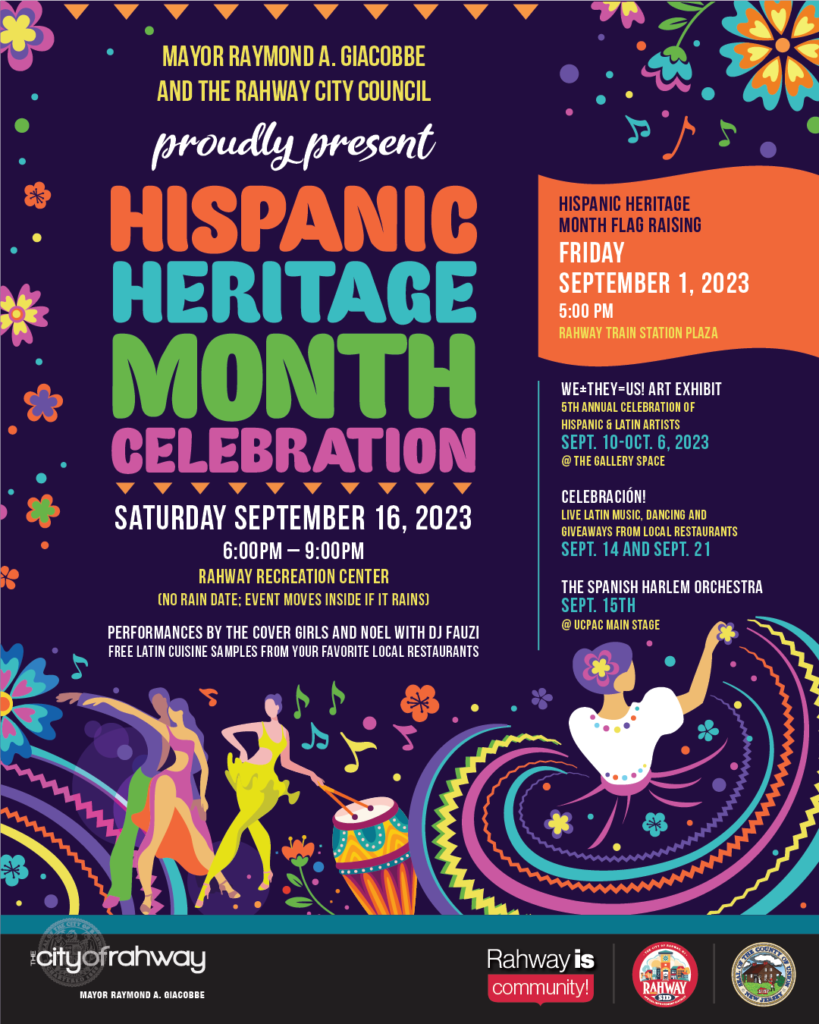 September is Hispanic Heritage Month
City of Rahway 

Mayor Raymond A. Giacobbe and the Rahway City Council have announced a series of exciting Hispanic Heritage Month events taking place in September throughout Downtown Rahway to celebrate the diversity that makes up our great City.

A Flag Raising Ceremony will start off the festivities at 5:00 p.m. on Friday, September 1 at Rahway Train Station Plaza.

From September 10 – October 6, The Gallery Space, located at 1670 Irving Street, will host the We+They=Us Exhibit. This 5th Annual Celebration of Hispanic and Latin Artists will provide a showcase of the rich artistic talent within the Hispanic community in our City. 

On September 14 and 21, Celebración returns to Arts District Park from 6:30-8:30 PM for two evenings of dancing with live music featuring original and classic Latin hits. Local restaurants will be on site with food giveaways to share the Hispanic cuisine that thrives in Rahway. Arts District Park is located across the street from the Union County Performing Arts Center (UCPAC), 1601 Irving Street. 

On September 15, UCPAC will be presenting a live performance from the Spanish Harlem Orchestra at 8:00 PM. The Spanish Harlem Orchestra is a 3x Grammy award-winning Salsa and Latin Jazz band, known for their vintage sound that originally defined the genre. Tickets are on sale now at www.ucpac.org/event/spanish-harlem-orchestra/.  

The activities will conclude on September 16 with the Hispanic Heritage Celebration taking place from 6:00-9:00 PM outside of the Rahway Recreation Center, located at 275 E. Milton Ave. This celebration will feature an evening of entertainment including live performances by The Cover Girls and Noel with DJ Fauzi who will provide the soundtrack to dance the night away, and local restaurants will be providing free samples of Latin cuisine. In the event of inclement weather, the event will be moved inside the Rec Center.

"Diversity is one of our City's greatest strengths, and through the celebration of the many cultures found in Rahway, we can foster a deeper sense of community and belonging for all residents and visitors," said Mayor Giacobbe.