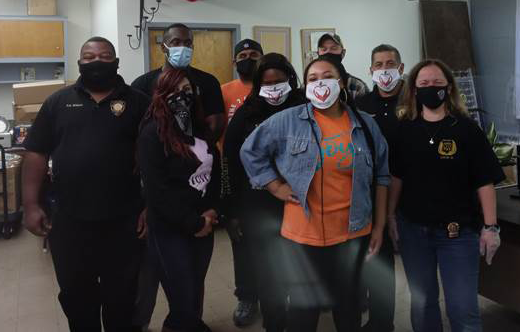 Feeding the Hungry this Holiday Season
Rahway Food For Friends currently serves over 600 families per month. With the closing of schools, increase in unemployment, and unemployment benefits being exhausted, we have experienced an influx of new clients. The numbers of families we serve monthly have more than doubled due to the Covid-19 pandemic. Our clientele has expressed dire needs for food, clothing, financial and housing support.
With the increase in clients, and new safety protocols, we immediately revised the programs under the direction of our CEO, Candance Ashe.
Our staff and volunteers welcomed this challenge as we maintained high safety standards for combating Covid-19 while serving clients, and keeping our volunteers and staff safe. We have implemented health protocols with guidance from the Centers for Disease Control and Prevention, and the New Jersey Department of Health. When implemented with fidelity, the protocols work to limit possible exposure and spread of COVID-19.
Pantry Directors, Nadine Burns and Denise Jones lead their team of volunteers in providing monthly food supplement packages, enforcing the guidelines to prevent the spread of COVID. To decrease long lines and maintain social distancing, clients were given additional days to pick up food.
The soup kitchen teams implemented the changes and prepared "to go meals" along with mobile meal deliveries. The Vice President, Pat Carter headed the teams as they prepared to serve over 180 meals weekly. The mobile pantry was extended to 4 vehicles to deliver food to seniors and disabled persons.
Rahway Food For Friends remains open to serve the public 4 days a week, with staff working 6 days a week to service them. Staff duties include preparing food packages, collecting food orders, locating new food distributors, placing food orders, delivering food and meals, picking up donations, and other administrative duties.
The team at Rahway Food For Friends works tirelessly and diligently to perform Covid-19 cleaning to serve at the highest levels of sanitation, safety and dignity. Our guests are provided with masks if needed, and prayers always.
Rahway Food For Friends lost two staff members and many clients during this pandemic. This year has thrown us its worst, but in the face of these difficult times, our community and staff have proven to fight back with our very best!
We would like to thank each Board Member and our volunteers including:
Daniel Allen, Patricia Carter, Nadine Burns, Denise Jones, Barbara Johnson, Sara Adames, Deshawn Cornwall, Audrey Young, Latoyah Kirkland – Washington,Rob Cianfrocca, Javonny James, Emanuel Ashe, Jadon Taylor, Marijean Batistella, Elijah Ashe, Latosha and Akua Hargrove, Carrie Souza, Yaneza Vazquez, Efrem Howard, Phillip Bellinger, Allen Gregory, Nate Austin, Idamiz Roman, Laury Pena, Elijah Ashe, Shandalis Francis, Maria Claudio,Deborah Yanuta, Americo Veno, and a host of others.
Our soup kitchen captains, Dana and Bill Marsh, Carlos and Irwin Allende, Natasha Drew, Pamela Wilson,Bethel and Carol, Erika Blazak and One Kind Step for their unyielding commitment and dedication to feeding with love and hope.
We have been successful in providing to those in need due to our corporate sponsors, private donors and foundations in their charitable giving. 98.3% of our clients meet the U.S. poverty guidelines. Thank YOU All for Making a Difference in our Community. If you would like to donate, or volunteer please visit.rahwayfoodforfriendsnj.org for more information.
Rahway Food For Friends is seeking donations for this holiday season.
Monetary donations are always the preferred option. It gives the pantry the option to buy foods that are needed to fill the bags/boxes with items we may not have on our shelves.
You can mail your tax-deductible donation to: Rahway Food For Friends, P.O. Box 1882, Rahway, NJ. Or donate on-line at rahwayfoodforfriendsnj.org.
We are in need of canned and boxed food (no glass jars please), turkeys, toys and clothing. Drop off Mon., Wens, Fri., 8 a.m. – noon – only. Please do not leave donations outside the door. Address to drop off is 1221 New Brunswick Ave., Rahway, NJ.
If you have any questions call 732-381-7201 or email: rahwayfoodforfriends@gmail.com.
Thank you for all your support. We appreciate all of you. Be Well and Stay Safe.