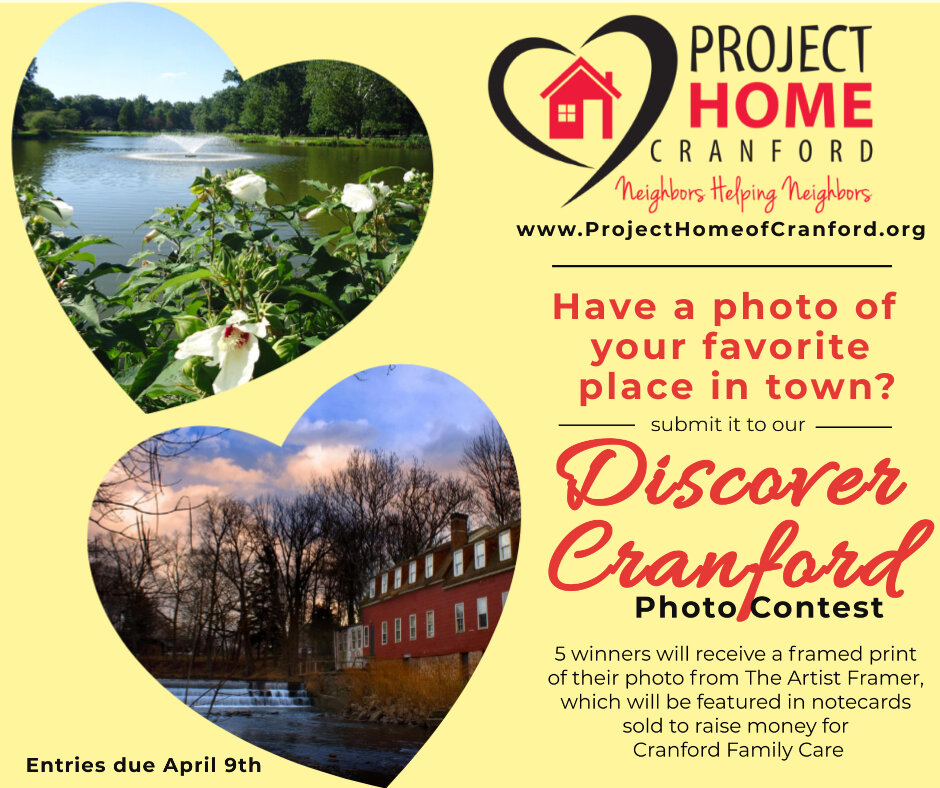 Project Home of Cranford Photo Contest
Attention all amateur photographers. Project Home of Cranford is looking for you and your photos of your favorite undiscovered places in town.
What's the prettiest place in Cranford? While we all love the Eastman Clock and the cherry blossoms at Nomahegan, we want to see your favorite undiscovered places.
Submit your shots of your favorite spots in Cranford to Project Home of Cranford's Discover Cranford Photo Contest. The best photos will be posted on our social media and the followers of Project Home of Cranford will decide the winners. The five photos with the most "likes" will win a framed print of their photo from The Artist Framer, and the winning photos will be displayed in the Artist Framer's window in the center of downtown. The winning images will be featured on notecards that will be sold to raise funds for Cranford Family Care.
Any amateur photographer can submit an image—kids too! To submit your photo, go to ProjectHomeofCranford.org/Discover-Cranford and print a submission form and see the entire list of rules. All entries must include a signed submission form.
All photos must be submitted by April 9, 2021 with winners announced by April 16, 2021.
Grab your phone or camera and snap away! Or if you have a favorite old picture, we would love to see those also.
For over 30 years Project Home of Cranford, a 501(c)3 charity has been working through Cranford Family Care to keep Cranford families in crisis in their homes. The funds raised by selling the notecards with the winning photos from the Discover Cranford Contest enable us to continue our mission of raising funds to support Cranford Family Care. To find out more about Project Home and our mission please email us at projecthomeofcranford@gmail.comvisit us at projecthomeofcranford.org and Like us on Facebook atfacebook.com/ProjectHomeOfCranford
Our special thanks to the Artist Framer for supporting this event.