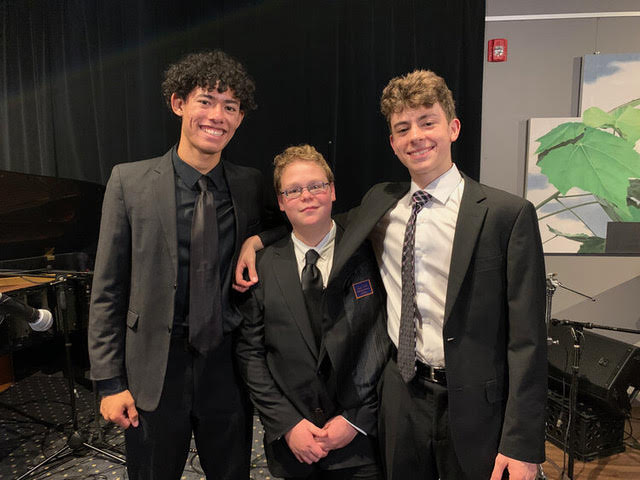 New Jersey Jazz Society's Virtual Social
The future of jazz was on display Thursday, October 21, when the Baker Street Trio performed at the New Jersey Jazz Society's Virtual Social.
Members of the trio are: bassist Ryoma Takenaga of New Providence and Ben Collins-Siegel and drummer Ben Schwartz of Maplewood. Takenaga attends the Academy for Information Technology in Scotch Plains. He started playing with Collins-Siegel and Schwartz while in Montclair's Jazz House Kids program, and they formed the trio in the fall of 2020. On September 25, they played at one of the street stages during the Montclair Jazz Festival's Grand Finale, and on Friday, October 22, they were the opening act for guitarists Bernie Williams and Gil Parris at Maplewood's The Woodland.
Takenaga, along with Collins-Siegel, was an Outstanding Soloist at the 12th annual Charles Mingus Festival & High School Competition at the New School of Jazz and Jazz Standard in New York City in 2020. This past summer, he was accepted into the Carnegie Hall NYO Jazz Orchestra.
He began playing upright bass at the age of nine and started focusing on jazz at around the same age. Takenaga was inspired, he told Jersey Jazz Magazine in May 2020, by "the important role the bass plays in a jazz band. The bassist is responsible for solidifying the groove, keeping time, and creating harmony at the same time." His hero is bassist Christian McBride. "I have been fortunate enough to meet him and talk to him on several occasions," he added. "Everything from his soloing style to his large and full sound had made an impression on me."
Playing with the Carnegie Hall NYO Jazz Orchestra was a "dream come true" Takenaga told Jersey Jazz in May 2021. "It's a rare opportunity to be in residence with and play music with the best young musicians in the country," he said, "while, at the same time, receiving music instruction from excellent jazz musicians and educators."
The Baker Street Trio was joined in the NJJS Virtual Social by special guest and host, alto saxophonist Alex Laurenzi, a Jazz House Kids graduate who is now on staff. Laurenzi is a 2020 graduate of Princeton University who grew up in Mountain Lakes. He has performed with several leading jazz artists including bassist Christian McBride, trumpeter Wynton Marsalis, and alto saxophonist David Sanborn.
The October 21st Social was streamed at 7 p.m. on the njjs.org website as well as on the NJJS Facebook page and YouTube channel. It continues to be available for viewing on the NJJS YouTube channel. There is no charge for viewing, but donations to the NJ Jazz Society are encouraged.
Funding for the NJJS Socials has been made possible in part by Morris Arts through the New Jersey State Council on the Arts/ Department of State, a partner agency of the National Endowment for the Arts.