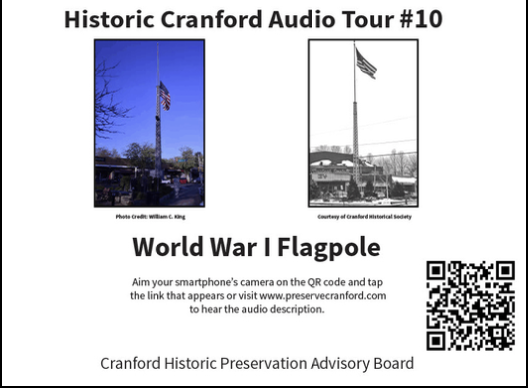 New Historical Signs Appear in Cranford
Submitted by Steven Saltzman
The Cranford Historical Preservation Advisory Board (HPAB) has announced the installation of new "QR" historical signs that have just been installed in 25 locations in Cranford. Each sign has a picture from the past as well as the present along with a QR code that anyone can scan with their phone to hear Cranford Radio's Bernie Wagonblast narrate a brief history of the location or building. "We are totally excited and thrilled about this" said Maureen Strazdon, HPAB's Former Chair and Organizer of the work to get the signs designed, purchased, and installed. Funding for the signs came from a grant from the Union County Office of Cultural and Heritage Affairs as well as local residents. Each sign has a recent picture of the property and one from its past. A map of all the locations can be seen and downloaded from the Historical Preservation Advisory Board Facebook page at facebook.com/CranfordHistoricPreservationAdvisoryBoard.
The 25 locations are:
Droescher's Mill, Cranford Park, Rahway River (near Lincoln Avenue), the First Baptist Church (on High Street), the Cranford Hotel, the Power Station (on South Avenue), Cranford Train Station South Avenue, Cranford Trust, the Post Office building, the World War I Flagpole, the site of the First Public Library Building (on Miln Street), the Darsh Building, the Masonic Building, the William Sperry Building, Cleveland Plaza, the First Presbyterian Church, Crane-Phillips House, Kalis Manor/Church of Christ Scientist, Hanson House, Hampton Park, the site of the Cranford Casino (on Riverside Drive and Casino Avenue), Riverside Garden Apartments, Cranford Tile Street Signs (on the corner of Riverside Drive and Prospect Avenue), English Village (on Prospect Avenue), and Trinity Episcopal Church.