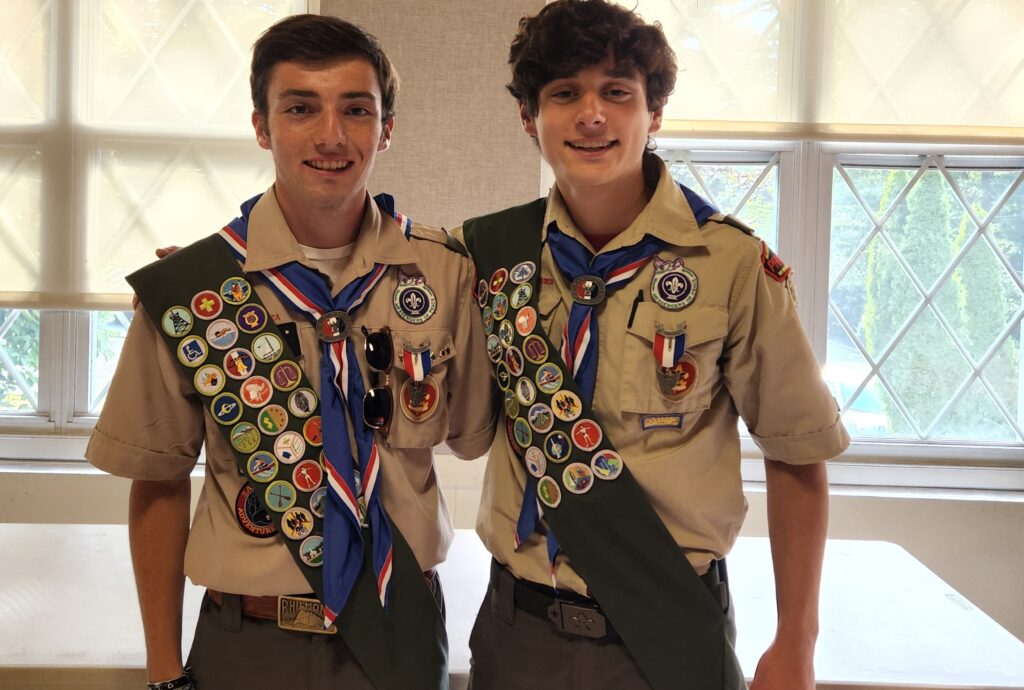 Morrison and Lorne Earn Eagle Scout Rank
Berkeley Heights BSA Troop 68
Shane Morrison and Griffin Lorne from Berkeley Heights Troop 68 held their Eagle Scout Court of Honor on September 10, 2022, at St. Andrew's Church in New Providence. Shane and Griffin are the Troop's 120th and 121st Eagles Scouts since the troop was founded in 1934.
To earn the rank of Eagle Scout, the Scout must complete a minimum of 21 merit badges, some of which are specific to the rank, hold a series of leadership positions, volunteer many hours within the community, and learn numerous outdoor and other practical skills. An Eagle candidate must plan, develop, and lead the completion of a service project that benefits a non-profit organization such as a school, church, or a government entity. Eagle Scouts are people of strong character who exemplify trustworthiness, loyalty, helpfulness, friendliness, courteousness, kindness, obedience, cheerfulness, thriftiness, bravery, cleanliness, and reverence.
Shane, a senior at Governor Livingston High School, has been in Scouts since the first grade. He has held multiple leadership positions including Webmaster, Troop Guide, Den Chief, Assistant Senior Patrol Leader, Senior Patrol Leader, and Philmont Crew Leader. He completed the National Youth Leadership Training. He earned the following awards: National Outdoor Award for Adventure and the National Outdoor Camping Gold Award.
For his Eagle Scout Project, Shane designed, built, and lead the execution of constructing an outdoor classroom at William Woodruff Elementary School which was used during COVID and has become an integral part of the school community. The classroom consists of six cedar picnic benches and approximately three hundred feet of gravel path. He dedicated the classroom to his former principal, Ms. Patricia Gasparini, who retired at the end of last year.
Shane is a member of the Governor Livingston Varsity Soccer and Track & Field teams. He is Vice President of Service for the National Honor Society, the founder and President of the GL Engineering Club, and member of the Athletic Honor Society. After graduating next June, Shane looks forward to studying electrical engineering.
Griffin joined cub scouts while at Mary Kay McMillin School and had countless experiences (leadership, earning merit badges and learning life skills) and adventures (camping, hiking, white water rafting and Philmont) during his years of scouting. Having a group of adult leaders and good friends to share all of these opportunities with made it even more meaningful.
For Griffin's Eagle Scout project, he built a trail on the property of the New Providence Presbyterian Church which connected several activity sites. The grand opening of the trail was on Good Friday when 150 churchgoers walked the trail which was lined with tiki torches and Bible verses.
Griffin plays varsity soccer and lacrosse at Governor Livingston High School and is a member of the Athletic Honor Society. He is a senior intern at the New Providence Presbyterian Church and would like to pursue a degree in Communications next fall.
Troop 68 meets at 7 p.m. at Mary Kay McMillin School, 651 Mountain Avenue in Berkeley Heights, NJ every Monday that school is in session. For further information please contact peterrichardson.bh68@troopmaster.email for more information.
Courtesy photo