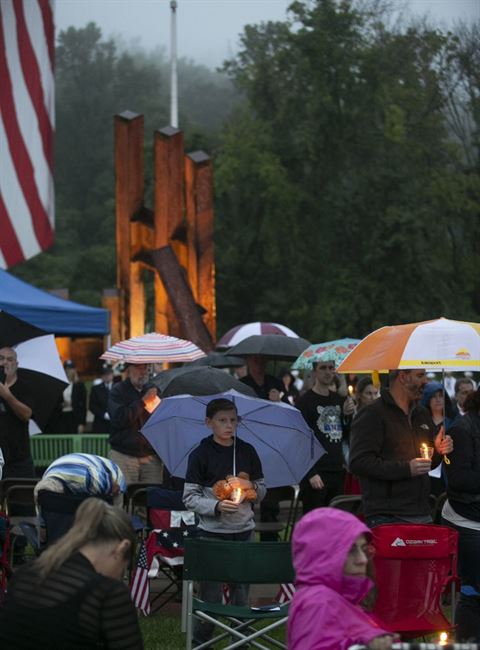 Morris County 9/11 Remembrance 2022
MORRIS COUNTY CONTINUES TO REMEMBER
Despite steady rain, over 150 first responders, public officials and residents joined Morris County's 9/11 Remembrance ceremony on Sunday evening, the 21st Anniversary of the attacks.
FDNY Firefighter Carl Asaro, Jr., the keynote speaker, provided unscripted, heart-felt remarks about his father, FDNY Firefighter Carl Asaro, Sr., who was killed responding to the attacks on the Twin Towers in Manhattan that fateful day. Carl, Jr. and three of his siblings joined the FDNY in honor of their father as soon as they grew old enough.
The U.S. Naval Cadet Sea Corps out of Picatinny Arsenal were new to the procession of first responders, who traditionally kick off each annual ceremony by marching up West Hanover Avenue, to the Morris County 9/11 Memorial in Parsippany Township. The group of young people represented a new generation, born after the cowardly attacks of Sept. 11, 2001, who are picking up the torch to remember the nearly 3,000 people killed in New York, at the Pentagon and on Flight 93 when it crashed in Shanksville, Pa.
Please Visit Our Website for More
Our website provides links to our brochure of activities, a photo gallery of the event and a video of FDNY Firefighter Asaro's remarks. The full video of the event is still being loaded but will be available soon. It contains an introduction from Commissioner Director Tayfun Selen, an invocation by Rev. Herman Scott, a "Remembrance of the Victims" accompanied by a candle lighting and much more.