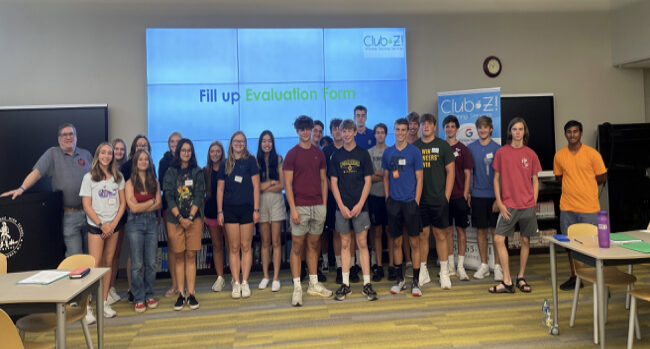 Club Z! Tutoring helps New Providence High School
Club Z! Tutoring helps New Providence High School PTSA raise over $600 with SAT Boot Camp Club Z! Tutoring & Test Prep of North Jersey in support of the New Providence High School (NPHS) Parent Teacher Student Association (PTSA) organized an SAT Boot Camp at New Providence High School on Sunday August 21, 2022 which was attended by more than 30 High School students from New Providence and surrounding towns. This event raised an amount of $620 for NPHS PTSA, making it as the most successful fundraising event for Club Z! this year. Randi-Lynn Smallheer, Treasurer of NPHS PTSA, was present to accept the donation at the end of the event.
College Board's SAT is a standardized test that is used by most of the colleges towards the admission to undergrad programs in United States. Majority of the students struggle to understand how much preparation they really need for the SAT or where to begin with, which is why Club Z! hosted the workshop to help the students with several skills that are necessary in order for them to do well on the test. These include analyzing and explaining how the test is designed and scored, learning and using effective test-taking strategies, and easing test-taking anxiety and increasing comfort and confidence by taking practice tests.
Additionally, the participating students received one full-length SAT practice test through Z Prep! Score Booster, Club Z!'s proprietary online SAT/ACT Test Prep platform. The practice test simulates the actual test in form and content and provides the scoring real time. Students can watch guided demonstrations on the correct way to answer each and every question, as well as access dozens of video modules that dig deeper into the content areas tested in each question.
"The NPHS PTSA is thrilled to partner up with Club Z! Tutoring of North Jersey once again," said Amy Lepre, the President of NPHS PTSA. "Not only do they offer this great opportunity for our students, but their generous donation allows us to give back even more, to our own NPHS community. We look forward to working with them in the future."
"We believe all students should have access to test prep resources and coaching, which is why we work with school communities to ensure the students receive guidance not just on these tests, but also any challenges in college application, finding the best fit college and securing financial aid," said Tan Ghoroi, Co-owner of Club Z! Tutoring of North Jersey.
About Club Z!
Club Z! is the nation's premier in-home tutoring and test prep provider, with over 500 offices throughout the United States and Canada. Club Z! has helped hundreds of thousands of students improve their test scores, classroom grades, and academic self-confidence through its proven One-on-One approach. They have the services and programs to support students of all ages, from kindergarten readiness through college admissions counseling and offers in-home and online tutoring for all subjects, including standardized test preparation such as SAT/ACT/PSAT etc., and study skills development. To learn more, visit www.clubztutoring.com/north-jersey
About NPHS PSTA
The NPHS PTSA supports the entire NPHS community, including every student, teacher /staff member and parent. Their primary goal is to provide programs that foster social, emotional and intellectual growth. Through the support of their membership, fundraising efforts and donations, the PTSA funds numerous events including Teacher/Staff Appreciation Week, Staff Pop-Up events; Student Appreciation Days, grade specific events; Mini-Grants for teachers; and community centered events such as our Food Truck event and Movie Night. Special committees include Sustainability, Wellness / Mental Health, Plastics Recycling, and our Senior Class Committee. Learn more about the NPHS PTSA by visiting their website http://nphsptsa.org.