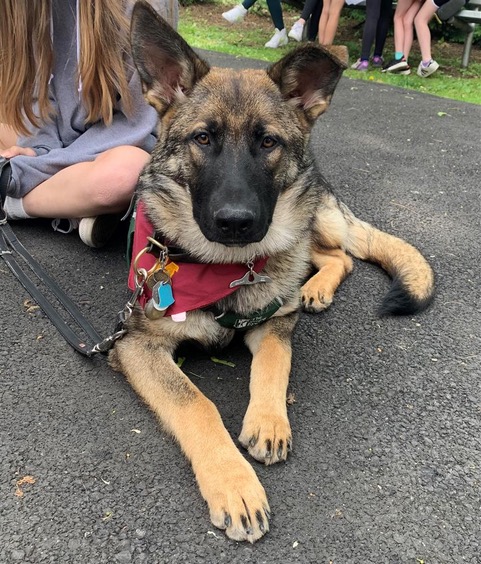 MHS Day of Service – "Dodger the Dog"
Submitted by Mary Beth Gabel
Madison High School is raising money for The Seeing Eye because we want to help the blind and visually impaired.
Annually on the Day of Service, a group of Madison High School students learn about the Seeing Eye and turnkey their information to students at Madison elementary schools. Students learn that it costs over $65,000 to raise a Seeing Eye dog, and how dogs who have completed the program give the blind and visually impaired independence. Students and Madison family puppy raisers also gather to share their experiences volunteering to support the Seeing Eye.

The Seeing Eye is a non-profit philanthropy supported by donations from individuals, corporations, and foundations, as well as bequests and other planned gifts. The school receives no government funding. Thanks to the generosity of supporters, the fee students are charged has remained unchanged since the 1930s — $150 for their first Seeing Eye dog or $50 for a replacement dog. Military veterans are only charged $1.

Madison High School has the opportunity to fundraise and name a dog in honor of our community. The target is to raise $5,000 to name a Seeing Eye dog Dodger in honor of our school team name and the philanthropy of Geraldine R. Dodge.
100% of your contribution will be devoted to the Seeing Eye programs, directly supporting the breeding, raising, and training of Seeing Eye® dogs and instructing people who are blind and visually impaired in their use and care.
To donate please visit: justgiving.com/fundraising/dodger-the-dog
About The Seeing Eye
The Seeing Eye's mission is to enhance the independence, dignity and self-confidence of people who are blind, through the use of specially trained Seeing Eye® dogs. In pursuit of this mission, The Seeing Eye breeds and raises puppies to become Seeing Eye dogs, trains Seeing Eye dogs to guide blind people, instructs blind people in the proper use, handling, and care of the dogs and conducts and supports research on canine health and development.