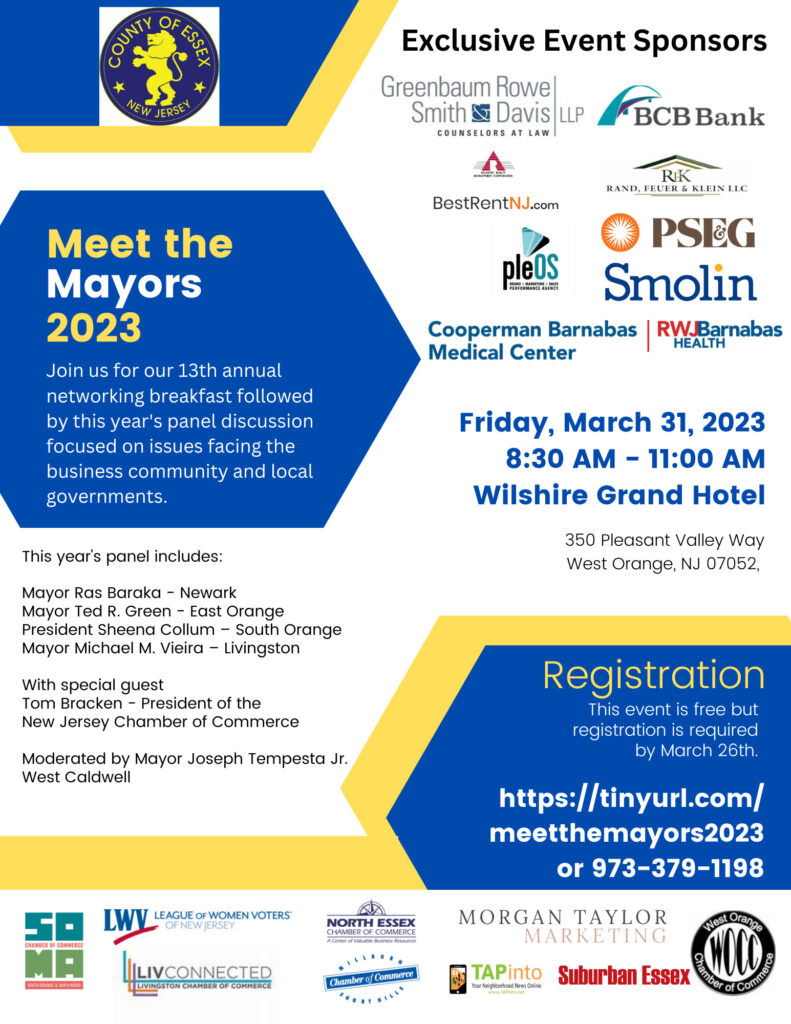 Meet the Mayors of Essex County
Essex County residents, business leaders and community organizations are invited to attend the 13th Annual Meet the Mayors breakfast on Friday, March 31, 2023 at the Wilshire Grand Hotel in West Orange.
Meet the Mayors is sponsored by the Interchamber Coordinating Council comprised of the North Essex Chamber, Livingston Chamber, SOMA Chamber, West Orange Chamber and Millburn-Short Hills Chamber. Mayors from 22 municipalities in Essex County have been invited to enjoy and participants will have the opportunity to network and ask questions during the panel presentation.
This year's panel features Mayor Ras Baraka of Newark, Mayor Theodore Green of East Orange, Mayor Michael Vierira of Livingston and President Sheena Collum of South Orange. The panel of Mayors will be joined by Tom Bracken, President of the New Jersey Chamber of Commerce. The panelists will be addressing topics that are affecting local municipalities and small and large businesses alike including a tight labor market, continuing inflation, rising health care costs.
Because of the generosity of our event sponsors, everyone is invited to attend this event for free but pre-registration is required. Please visithttps://tinyurl.com/MeetTheMayors2022 for more information and to complete the registration.