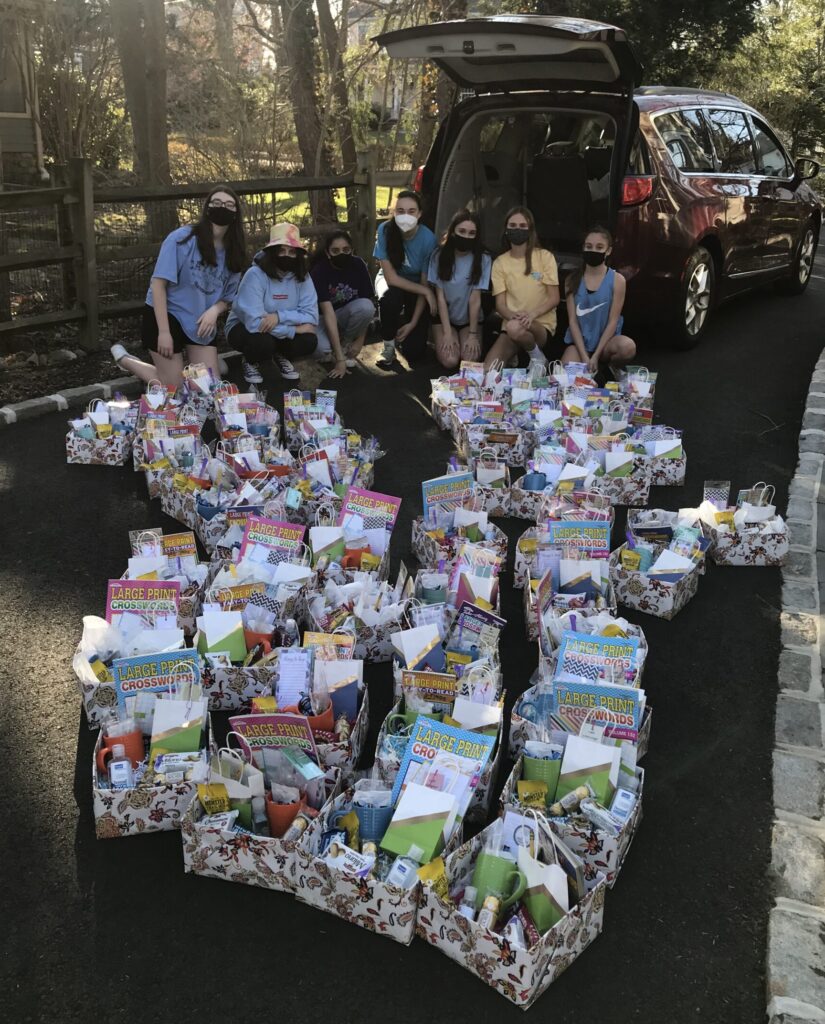 Madison Kindness Month and Girl Scout Week
Submitted by Laura Axler
The Madison Harding Girl Scouts are always busy with activities and service projects that help our community, and this year is no exception! This past March, troops celebrated Kindness Month and Girl Scout Week (March 7-13) with fun events and some very thoughtful projects that span the generations.
Every year, Daisy troops, the youngest level of Girl Scouts, celebrate the Girl Scouts' Birthday (March 12) by creating and delivering a baby basket for the first girl born at a local hospital on that day. The St. Vincent Martyr School Kindergarten Daisy Troop 8159 and the Kings Road Daisy Troop 8161 teamed up to create a beautiful basket for one lucky baby at Morristown Medical Center. Troop members and their families collected items they thought a new baby would need, including necessities (diapers, wipes, lotion, baby wash, teething toys, sunscreen) as well as fun accessory items (baby outfits with daisy flowers, picture frames, a lovey, headbands and bows). They also couldn't resist including some Girl Scout related items (Future Girl Scout onesie, Girl Scout Cookie bib, and of course, a few boxes of Girl Scout cookies for the parents).
The festive basket was welcomed by staff with big smiles (under masks) at the lobby of Morristown Medical Center. Troop members were all anticipating the news of who received the basket. They later found out that Baby Ava received the basket and the parents could not have been more gracious. Mom, Jennifer Diana, reached out to SVMS Daisy Troop Leader, Katelyn McAneny, to thank the troops for their generosity. She included a photo with a beautiful message, that in part read:
"Thank you so much! We are blown away by the gifts. So unbelievably thoughtful! She will absolutely be a Girl Scout as I was for many years and all 3 of her cousins are currently!"
The 8th grade St. Vincent Martyr Troop 5700 chose to brighten the days of many local seniors. As part of Kindness Month, the troop prepared and delivered 55 care packages to 68 seniors in the St. Vincent Martyr parish. Each package included a mug, a hot cocoa packet, candies, cookies, a snack bar, an activity book, a tissue packet, hand sanitizer, chapstick donated by Garden Goat Soap, and a bookmark with a bible verse and prayer. Boxes going to couples had two mugs and multiples of some items.
"It was a wonderful opportunity for our troop to show love and kindness to the seniors in our community," says Troop 5700 leader, Barb Puglisi, "especially during this time of Covid that has robbed so many of the personal connections that are so important to our well-being. It also served as a thank you to the seniors for the support many have shown our Girl Scout endeavors through the years."
There are more than 450 registered Girl Scouts and 45 active troops in Madison and Harding.  Although this year has been different from years past, troops continue to meet safely outdoors and on Zoom, and help our community in many ways. Projects such as these allow them to witness first hand the beauty and value of generosity and service in their community. For more information about Madison Harding Girl Scouts, visit www.gsmadisonharding.com